– Marketa Irglova is "Once" and Again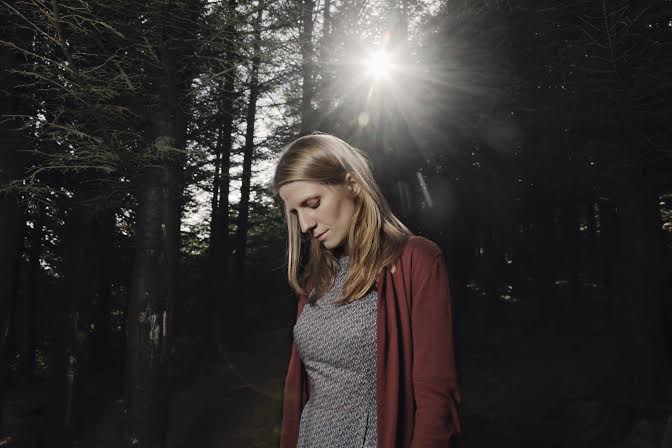 When Marketa Irglova speaks, there's an instant rhythm emitted as if she's a human clef, and when she sings, that observation reaches infinity. There's also an immediate honesty and insightfulness present, an intuitive acknowledgment that—despite the endless flaws within the world— makes you believe there's still much to be embraced, ourselves included. Irglova is adept in adapting, and that's only a portion of what makes her the musical prodigy that she truly is. Born in the Czech Republic to later living wholesomely in different areas of the world (from Ireland to New York to Iceland currently), Irglova readily and radiantly transmogrifies with each shift, and that in turn has impacted her musical direction, even if it's not conceded initially.
Her latest album, Muna, exquisitely captures this cadence while maintaining the charm that caused individuals around the world to fall in love with her in 2007 when the movie "Once" was released—she starred in the film and wrote the music with Glen Hansard under the band name The Swell Season. With The Swell Season's future uncertain after she and Hansard ended their personal and professional relationship in 2009, Irglova pursued her impulse to continue the journey by simply creating music for herself.
"When I finished [2011 debut] Anar, I had this idea, this feeling that, 'Oh, this is a first record of three records I'm going to make, and they're all going to somehow be connected to one another,'" she reflects. "I already had a plan for the future, which was really lovely. Instead of this isolated thing happening for no particular reason, it suddenly felt like a part of a bigger story. I toured a little bit with Anar and then took a break from writing, which is usually how it is for me; I'll write a lot of songs in a short amount of time, stop and experience life, read books, watch movies and have new experiences that then inspire more writing in the future."
About a year after Anar's release, Irglova began gathering material for what she thought was going to be her second record, but soon discovered an inconsistency between her latest and previous material.
"The [new] songs were different," she confesses. "They weren't so much focused on relationships like they had been before—my relationships with people, the dynamics of those relationships, and what I was finding out about myself with the other people in my life. Now it felt like I was widening my perspective on other matters and finding my own spirituality, finding my way through life, finding myself and my place in the world."
Alongside that, Irglova says a structural shift within her new batch of songs arose.
"They were much more cinematic to me," she reminisces. "Whenever I was writing them, it was like a movie was playing in my mind that was influencing where the songs were going. I completely abandoned trying to achieve any set structure, so I just kind of followed where they wanted to take me, which made for a very unorthodox structure in some sense, but I really enjoyed it; I was having all these conversations within the songs with other parts of myself and even with God, asking questions and then almost hearing the answers as if I was imagining what an entity like that would have to say to them."
Despite resistance in accepting answers, Irglova continued to pursue this spiritual side of herself and came to terms with what, in fact, was already present within her for Muna. Everything suddenly turned visual as on the hymn-like, church bell-baring and choir-suffused title track, "Point of Creation," which swept Irglova into this vision of being immersed in a sanctified setting.
"I kept hearing an organ playing the chords that I, simultaneously, was playing on the piano and seeing this beautiful cathedral where the morning light was streaming in," she explains. "I saw myself entering it through this big door and there being nobody else in this beautiful space that felt really holy and magical and then walking down the aisle toward where the light was coming from. I was coming into this place where you manage to access all that you've ever forgotten in your life as a spirit and all your past lives and all the purpose that you set for your life that you forgot about."
Another vision that appeared before Irglova was in the song "Gabriel," where she imagined the archangel riding on a white horse along a beach to deliver an important message. Similarly, "Mary" became linked not only to Jesus's mother, but also one of Irglova's friends with the same name.
"'Mary' is just picturing this little girl on this beautiful summer day, laying in a meadow with flowers," she reveals. "It holds this innocence for me, this sense of all the potential that's locked within a child and the beauty of the innocence that is carried. I believe she has a huge job to do in the world, which is to make people aware of the connections we've lost with nature and the relationship that's become so distorted between man and nature. She contains the remembrance of that completely, and that's her gift to give to the world."
Despite all of these Catholic references, Irglova does not practice the religion or even view herself as religious, but she does possess an otherworldly piousness.
"I consider myself spiritual with a very strong connection to certain figures that come from the Christian tradition and the energy that those figures hold for me in my life," she clarifies.
With imagery unveiling so vividly before her eyes, it's only natural that Muna swirled into a cyclone sonically.
"I knew I was going to aim for a different sound scope in the studio," she says. "I wanted it to be a lot more lush; I wanted there to be string and vocal arrangements on the record; and I wanted certain elements to be more rhythmical and upbeat, so I knew that when I was coming to Iceland that I would get a lot of local musicians to partake. By taking the songs to Iceland and having other people work on them in that environment, it really inspired me. The atmosphere definitely soaked all the way through the record, so I think it holds the energy of this place, even though the songs themselves were written in New York."
In relation to New York, Irglova's worldliness and cultural adroitness has established not only a keener sense of distinctness within her songwriting, but also the willingness to grow personally and recognize where she belongs, which is, unsurprisingly, anywhere she steps foot.
"Relocating to New York was a complete surprise because I don't consider myself a city person at all," she confesses. "I always need to be close to nature; I charge my batteries through nature, and I was living in this beautiful countryside in Ireland when one morning I woke up and had the thought in my mind, 'It's time to move.' I was questioning myself, like 'Where am I supposed to move?' And the first place that came to mind was New York; I've passed through [there] many, many times and love visiting, but I never thought in my whole life that I'd actually move there. My sense of guidance has brought me to the right places so far, though, so I thought I'd see where it would take me."
After booking her flight, Irglova swore that if she found an apartment right away, she was fated to stay the course; but if not, she would come right back to Ireland and save her proposition for another occasion. Her intuition proved fruitful, however, as she immediately planted herself in what she deemed a perfect situation. Nonetheless, the fast-paced bustle, noise and pollution within the city eventually triggered a desire for change once more, but Irglova was unsure of the specifics this time around.
"A friend of mine suggested a studio in Iceland, where he had worked on a record," she explains. "I had visited once before and been really drawn to the place, so I decided it was an opportunity to go back. Once I arrived—just the openness of the countryside and the beautiful energy of the place and the much slower place—I was reminded of what I had been missing this whole time, and I couldn't bring myself to leave."
Among that, Irglova was also struck by love, specifically Sturla Mio Thorisson, the engineer and producer for Muna
"He was a big reason to stay here and the reason my transition was so easy; I wasn't an outsider anymore," she says. "He introduced me to this place from a local's perspective. I felt like I had arrived home, and it expanded as I moved deeper into the life here from the inside. Iceland's like this piece of rock in the middle of the ocean—very isolated—but I think that's also what I like about it."
Now also a mother, Irglova has reached what some may identify as a complete transformation. Even then, she has simply reevaluated her priorities while remaining committed to her passions.
"Being a mother has eclipsed everything else," she states. "When they're so little, they completely need all of your time and affection and attention, and you just happily and lovingly channel all of that to them. For the past 11 months, my focus has gone into this little angel, and I haven't had time to really write or play music a lot, but that said, it's changing now; it's completely the right time to start touring and writing again."
Muna is now available on Anti- Records and can be purchased via iTunes or Irglova's website. For more information on Irglova and upcoming tour dates, check out her schedule here
Photos by Hordur Sveinsson