– Amy Lee – Aftermath (Amy Lee Music, Inc.)
Boxx Magazine | Amy Lee – Aftermath (Amy Lee Music, Inc.)
Wednesday 14th October 2015,
News
Amy Lee – Aftermath (Amy Lee Music, Inc.)
Selena Fragassi September 13, 2014
Overall Score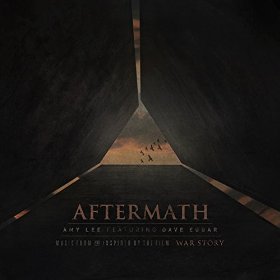 You might call this album the Aftermath of Amy Lee. It's been three years since we've heard from the Evanescence lead singer; in that time she's battled lawsuits with her record label, become a mother and pretty much shunned the industry to retreat into a mysterious void. And what emerges on Aftermath is the antithesis of what she once was—now a film composer, an independent artist and with a sound that is nothing what you'd expect from her. And it's all a really pleasant surprise.
Lee was originally tapped by composer (and frequent Evanscence collaborator) Dave Eggar to provide vocals for select songs on his new scoring project, which accompanies the summer film "War Story," starring Catherine Keener and Ben Kingsley that tells the story of a photojournalist trying to rescue a young refugee. But the group's working sessions (also featuring Chuck Palmer) soon turned into a fully-fledged affair with Lee taking greater creative control and resulting in a 30-minute album—released on her own label—that could deserves more than just some ending credits.
Aftermath opens with the dystopic electronic track "Push The Button," a neo-futuristic comet that conjurs stills of avant garde predecessors like "Run Lola Run," "Fifth Element" and "Blade Runner." There's a sexy, slithering dance break to the song, but the cornerstone is Lee's canary bellow that has become so trademark by this point it should have its own patent.
While the score mostly sticks to somber and bold instrumental passages, with layered arrangements of synth, cello, trombone and harps on "White Out" and "Remember 2 Breathe," there are still a number of Lee's vocal footprints. It's most prominently heard in background vocals for the Middle Eastern bazaar "Dark Water" and dark synth ballads "Lockdown" and "Can't Stop What's Coming," which, bear some resemblance to her past work but with a more defined, mature flavor that makes you wonder if this the Amy Lee we should have known all along. Certainly she's set the stage to make a bigger introduction for herself.