– Elizabeth & the Catapult – Like It Never Happened (Scratchback)
Boxx Magazine | Elizabeth & the Catapult – Like It Never Happened (Scratchback)
Tuesday 04th February 2014,
News
Carla Bruni Returns to North America for Three Special Dates
Elizabeth & the Catapult – Like It Never Happened (Scratchback)
Jonathan Shipley January 21, 2014
Overall Score
3.5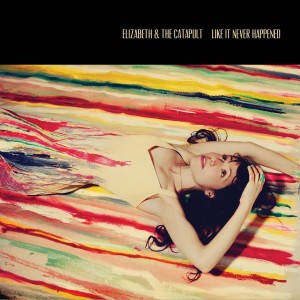 Aimee Mann's little sister. That's what Elizabeth Ziman sounds like. If Aimee Mann had a little sister who was an accomplished pianist, songwriter, guitar player, chanteuse it'd be Elizabeth Ziman of Elizabeth & the Catapult, the indie pop trio from New York City. The band with the coffeehouse folk feel with touches of jazz, country and Americana thrown in. The music is soulful, sweet, honest, bare. But that's not to say Ziman's music is somber or melancholic or moody. No, her music is simply good, putting a wistful smile on the listener because of a nice turn of phrase, because of a chord progression on the strumming guitar, because of a collection of notes played on the piano.
"True love will find you in the end/You'll find out just whose your friend/Don't be sad I know you will/And don't give up until/True love will find you in the end." Those words encompass the title track, a beautiful little song on the band's new album, Like It Never Happened. It's just Ziman, a piano, sweet lyrics. Later, "Happy Pop" shows its passive aggressive side, starting off like a Peanuts special with some simple happy piano, before breaking into a rolling ditty with insistent bass notes. "Are you proud now? 'Cause here's my happy pop song." One of the standouts, "Salt of the Earth," starts with a piano and then an obtuse percussive beat before Ziman springs forth with solid, focused, thrusting lyrics, maybe inspired by one of the later songs Johnny Cash recorded. It comes to you, the song, unrelenting but doesn't beat you over the head either. "I gotta' hunt you down," Ziman sings. "I gotta' hunt you down."
It could be euphemism for Ziman's eternal hunt to get where she is. As a piano player, she learned guitar. She busked for a time in New York City. She played drums for awhile with Kishi Bashi. She wrote songs. The woman is multifaceted. That's clearly evident on her latest album. Maybe she'll tour with her big sister, Aimee Mann, sometime soon. It'd be a fine match indeed.