– Introducing Katie Kate, Rapping For A New Nation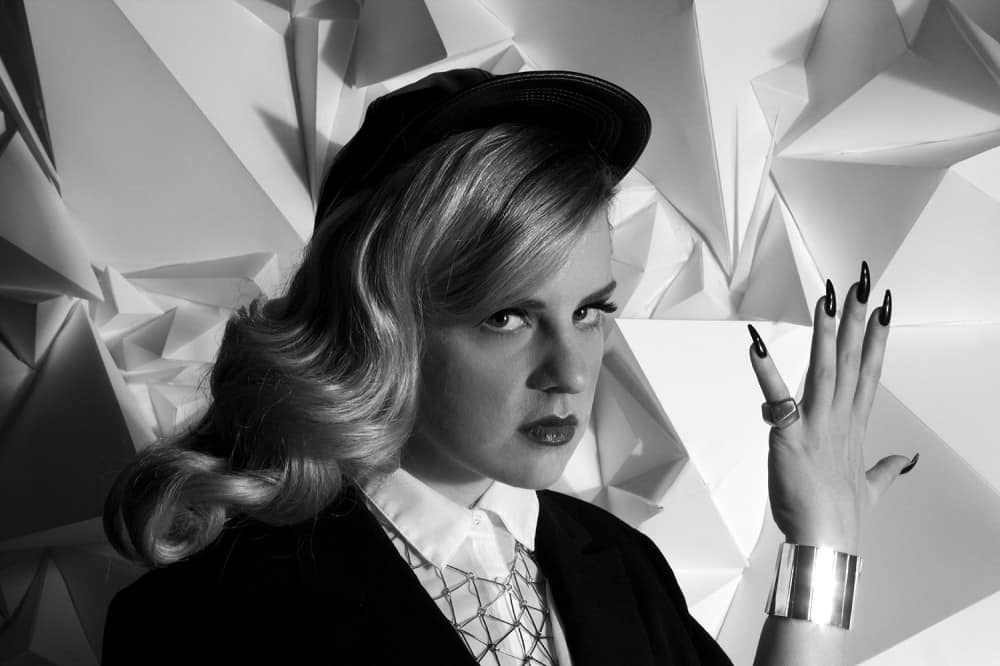 There is something instantly likeable about Katie Kate, a 27-year-old, Seattle-based, classical musician-turned rapper. It's a feeling one gets when speaking to her, listening to her music or watching her perform: You feel like you know her. She is the tough girl from high school who was unexpectedly great in band. She's the street-smart jokester with an underplayed nerdy bent. And she is very—for lack of a better phrase—real.
Kate's heart-on-her-sleeve authenticity is what makes the natural ferocity that defines her music so captivating. It's as if there is a direct pipeline from her inner voice to her microphone, and Kate has used it to inject the world of electronic hip-hop with some badly-needed breaths of fresh air.
Nation, Kate's second, self-produced record, is a magnum opus of feminine velocity. The beats are next-level danceable, and the composition is as sophisticated and satisfying as you'd expect from a classical savant-turned-rapper (Kate plays nearly every major instrument and studied classical flute at Cornish College of the Arts). The best part of the album, though, is Kate herself: Her persona shines through in every crevice.
She spits out whip-fast lyrics with cunning, and in other moments, she's wailing with goosebump-inducing drama. "Rushmore" is a meld of lightning-fast wordplay and swaggering attitude contrasted with melodic choruses and ethereal synthesizers. "Drift" is actually about a sobering concept (dissociative disorder), but is betrayed by sultry beats that beg for radio play and slow, stealthy raps. At the other end of the spectrum, "Sadie Hawkins" is a sunny, straight up pop number that finds Kate singing coquettishly—prettily, even—about romance.
With her combination of melodic composition, itchy-beats and tough-girl vibe, Kate is redefining the possibilities of what it can sound like to be young, white and female. "I could have easily made a pop white female rap record," Kate admits. "That would have been super fun, and I think there's a place for that, but this was a different project."
Indeed, there is no other genre that sounds quite like Katie Kate at the moment, and there's a reason for that. There is also a reason why you can count on one hand the numbers of popular female rappers in mainstream music today. And, there is a reason why women continue to be marginalized in music in general. But like M.I.A., Lil Kim, Salt-N-Pepa, and legions of trailblazers before her, Kate decided to go ahead and forge her own sound anyway. The result, as you might expect for someone doing something truly new, is controversial.
"People respond really strongly to my music," Kate admits. "Some people respond really, really positively, but when people respond negatively it's like really, really, really negative."
YouTube comments be damned: Kate is catching on like wildfire in her local environs, and soon, we predict, beyond. Nation will be released on August 5 and has already amassed critical praise. In a recent interview with Boxx contributing editor Genevieve Diesing, Kate opened up about breaking the rules, Kate Bush and more.
GD: How did you transition from a classical background to rapping?
KK: I started playing flute in fifth grade. I always just played a million different instruments. And then at Cornish I came as a classical flute player. I was not a model student, for sure. One thing about me: I don't like following rules, and I don't like people telling me what to do. Classical music is all about rules and what you're supposed to play. In high school I was playing the flute in competitions and things and traveled Europe playing flute, and then I would listen to Ludacris really loud in my car when I rolled out of the school parking lot.
There's a story that I've told in lots of interview about calling into a [New York hip-hop] radio station leaving an A capella rap as a joke when I was 17. That was kind of the first time I rapped in public, and it was a joke. They played it on the radio, and then suddenly I was someone who could rap.
GD: What inspired you to put out your first record, Flatland, in 2012?
KK: I was just making beats and kind of rapping. I was doing some shows and I was in school so it was kind of not a primary focus. And I got out of school so I was like, "You know what? I'm going to do this. I'm going to do this record; I'm just going to make it happen." So, I literally sat in my room and I had my microphone in my closet and I would, like, set it up to punch in, or sometimes I would press the space bar and run into my closet. I recorded the entire thing myself, made all the beats myself and then I asked a local dub step producer to mix it for me, and he did that for, you know, a buddy deal, and then I just put it out. I didn't have it mastered or anything. It was kind of a collection of the things I wrote while I was in school so some of the tracks were older. It feels more of like a sampler to me of like, "OK, here's a bunch of stuff I can do."
I was really amazed by the reaction. Because I didn't frankly expect to be playing Sasquatch or Bumbershoot or any of that.
GD: What would you say Nation is about?
KK:Nation is about me. Some people go outside of themselves to create, and in this project I went inside. I remember there being a moment in the recording process and it was like "this is getting dark," like "am I OK with how dark this is getting? Yes, I am."
I had to actually make a decision. Like, you know what? I'm just going to be honest. Because I didn't have an easy life. I'm an intense person. I'm an angry woman. I don't think I'm the kind of person who can live their life trying to please people.
I could have easily made a pop white female rap record. That would have been super fun, and I think there's a place for that but this was a different project. I had to just, like, make a decision to be vulnerable, because this is me, this is my life. If I'm not going to be vulnerable, what's the point?"
GD: Who are your influences and how have they shaped you?
KK: My biggest influence is Kate Bush, by far. I actually discovered her in high school because we were reading Wuthering Heights and it was a joke with my friends that Wuthering Heights was this weird song and this weird video and everyone thought it was really funny and then I just kept listening and I was like "actually this is really awesome."
What really inspires me about her was that she gives no fucks. That's what she means to me. She does what she fucking wants to do and always has and that's just the way it is. She's the bravest artist I can think of.