– J-Metal: The Women Ruling the Hard Rock Scene in Japan
Move over J-Pop! All-female metal bands are now all the rage in Japan. Recently Revolver brought to light this cultural phenomenon in a twopart series that had us curious to dig a little deeper. While the entertainers who get the most attention in Japan's musical scene are undoubtedly pop-leaning boy bands, the news that these heavy metal all-girl groups don't just exist, but exist aplenty, both shocked and delighted us.
Boxx runs down who's who in the scene in alphabetical order.
1. Anarchy Stone
Active since 2000, Anarchy Stone was originally made up of Maki (vocals and bass), Miya (guitar) and Yamashita (drums), but it looks like Miya departed around 2010/2011 and was replaced by Natsumi before the girls powered on. Anarchy Stone is prone to a more punk sound than strictly metal, and have achieved impressive indie success since they've begun.
Watch the music video for girls' newest single, "China Town" wherein each member manages to rip while still looking unreasonably cute.
2. Aldious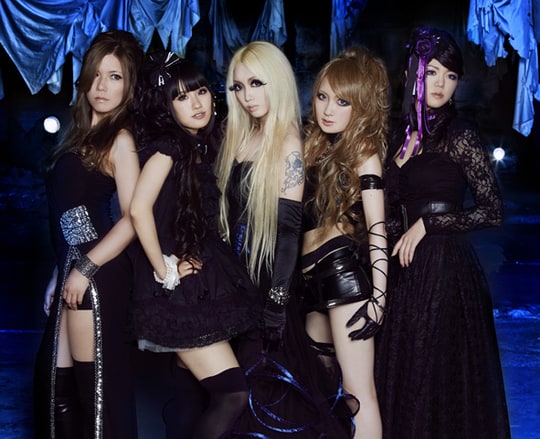 Aldious is an unapologetic heavy metal band formed by Rami and Yoshi in Osaka in 2008. The lineup of Aldious has experienced a lot of fluctuation over the course of their career thus far, but the current members are Yoshi (guitar), Toki (guitar), Aruto (drums), Sawa (bass) and Rino—sometimes stylized as Re:NO (vocals). Consistently ranking high in the charts and selling out shows, Aldious have three albums under their belt and their fourth, Dazed and Delight, drops this June.
3. Babymetal
You don't often see the words "metal" and "dance group" in the same sentence, but that's exactly what Babymetal is. Nearly actual babies, members Suzuka Nakamoto (vocals), Moa Kikuchi (scream) and Yui Mizuno (scream) are ages 16, 14 and 14 respectively. Stylized as Su-metal, Moametal and Yuimetal, the girls sing/scream over heavy metal tracks and dance along with it. An atypical combination, maybe, but they've been accumulating a dedicated fanbase since 2010 and have announced a world tour for 2014.
Here's one of their most popular singles, "Gimme Chocolate," which is, yes, a heavy metal song about wanting chocolate.
4. Bridear
Hailing from Fukuoka, Bridear is Kimi (vocals), Misa (guitar), Mitsuru (guitar), Kai (drums) and Haru (bass). Formed in 2011, the girls intertwine lyrical themes of love and fantasy with hard-hitting heavy metal music. With a singular studio album to their name, the girls are just beginning to really pick up steam in the industry. Get your fill of headbanging with their compilation of live performances set to their song, "Thread Of The Light."
5. Cyntia
Cyntia is a widely successful five-piece power metal group, active since 2011 and currently made up of Saki (vocals), Azu (bass), Ayano (keys), Yui (guitar) and Kanoko (drums). Their most recent album was Limit Break, released this last February, and they are currently headlining their 2014 tour "Rock'n GIRL." The band consciously crafts stadium-scale music, so everything sounds big and powerful. Their latest single, "Run to the Future," is making waves.
6. Destrose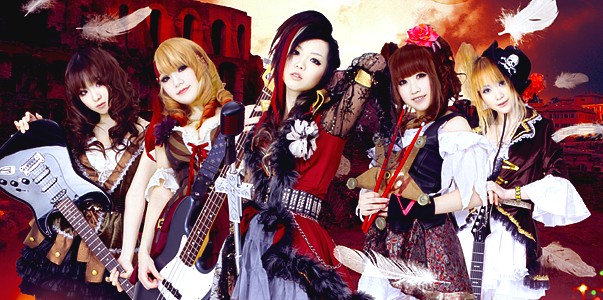 From Tokyo comes Marina (vocals), Mina (guitar), Narumi (guitar), Miho (bass) and Haruna (drums) as Destrose—a purposeful merging of "destruction" and "rose." Debuted in 2005, they're signed with Flyingcat Records and are often compared to the younger Cyntia and Aldious, featuring similar styles and lyrical themes. As penned in their JPopAsia profile, "Destrose are a orthodox Heavy Metal outfit armed with catchy melodies and choruses that put many of their male contemporaries to shame." Burrrrn.
7. DOLL$BOXX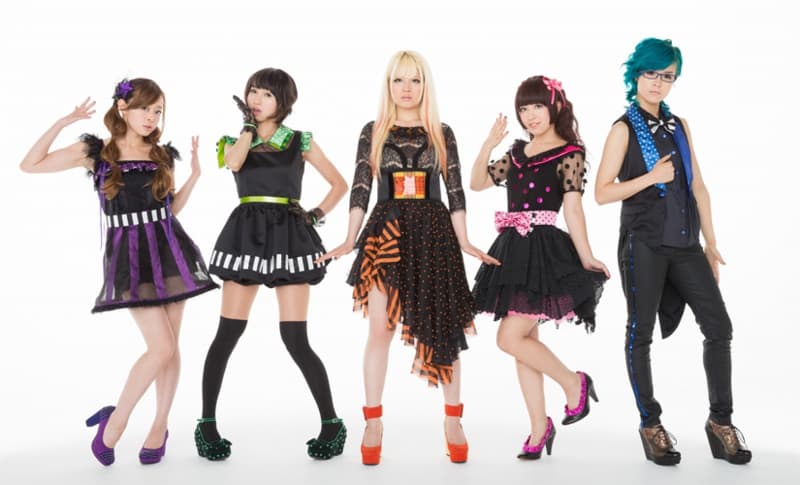 DOLL$BOXX is a rock/metal band that was formed in 2012 by the union of two pre-existing bands, Gacharic Spin and Light Bringer. Members Fuki (vocal), Koga (bass), Tomo-Zo (guitar), Flowers (drums) and Oreoreona (keys) feature more of a relaxed rock/pop sound than necessarily metal with strong, high harmonies. They still make the list because they can absolutely shred and tend to offset those poppy harmonies with aggressive growling. Watch their feature for "Take My Chance" and see what we mean.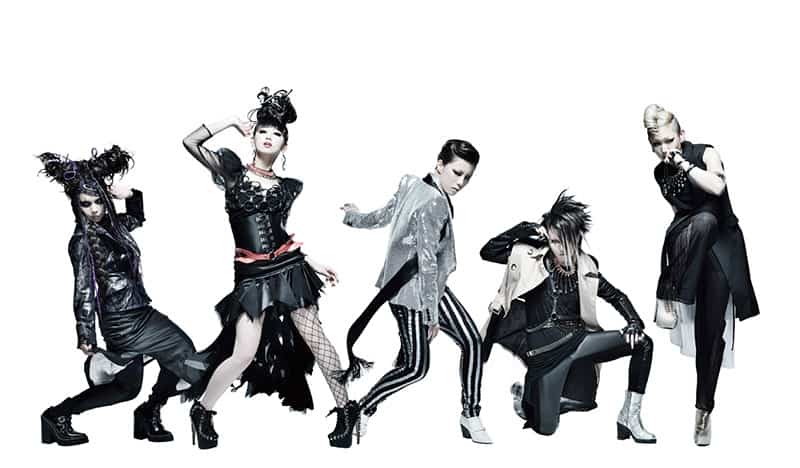 Exist Trace (stylized as exist†trace) mixes metal together with visual kei, a distinct Japanese movement that utilizes super over-the-top makeup, costume and hair styles to create a glamorous, androgynous aesthetic. Exist Trace was formed in 2003 in Tokyo by Jyou (vocals), Omi (guitar), Miko (guitar), Naoto (bass) and Mally (drums). With Jyou's lower register and Omi's heavy guitar distortion, they're easily one of the darker bands on this list. They're also one of the few to achieve international recognition, having been featured on the soundtrack for Silent Hill in 2007 and have since touched down in the U.S. for popular Japanese culture events such as AKON. They have three full-length albums under their belt and a fourth slated for release this September.
9. Flagitious Idiosyncrasy in the Dilapidation
Unlike some other groups on this list who juxtapose their heavy metal sound against lyrical themes of whimsy and love, F.I.D. match their crusty grindcore sound with songs about violence and gore. Active since 2001, they're definitely more of the death metal ilk. Makiko (vocals), Kanako (bass), Tomoko (drums) and Noriko (guitar) are a fearsome foursome similar to Insect Warfare and Wormrot, and what they lack in high-profile glitz they make up for with complete dedication to their craft. Watch them absolutely throw it down live below.
10. Gallhammer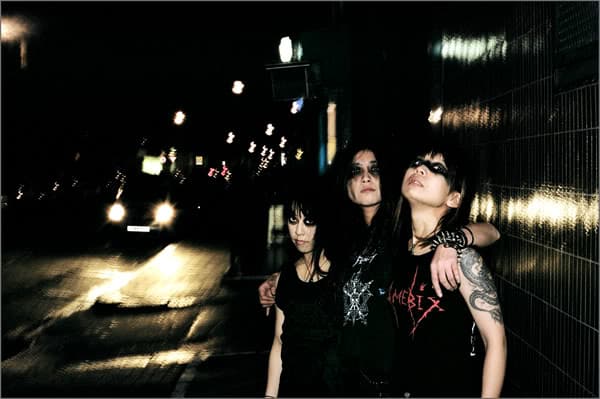 Formed in Tokyo in 2002, Gallhammer is a mixture of black metal and crust punk created by Vivian Slaughter, Risa Reaper and Mika Penetrator as homage to the gods of metal that inspired them. Mika departed the band in 2010 and the remaining girls elected to carry on as a bass-drums duo after that, although in 2013 Slaughter released a personal statement that the band is on hiatus. Their three full-length albums center around aggressive themes of hatred, pain and violence.
11. G∀LMET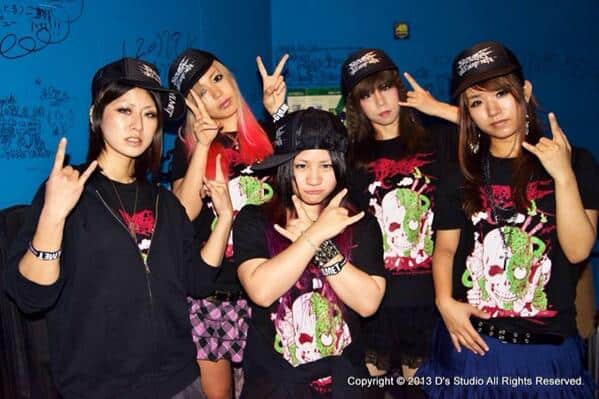 Born out of Osaka in 2006, Galmet is a five-piece "melodic moe" death metal outfit; that particular descriptor means that there are conscious efforts made for the girls to appear cute and beautiful to create contrast with their aggressive sound. The founding member of Galmet was Miki (vocalist), but the rest of the lineup has fluctuated a lot, with many of the members overlapping into other bands in the scene. The current lineup appears to be Miki, Ayano (guitar), Ama (bass), Ruki (guitar) and Idyako (drums).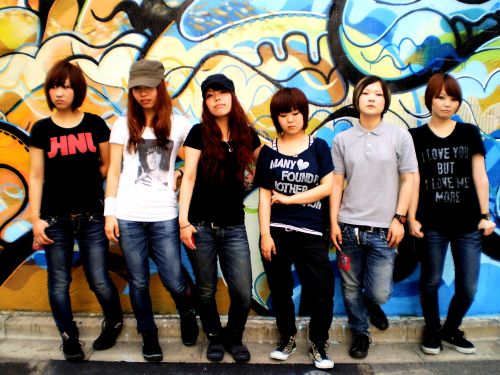 New Strike Zipper is a sextuplet that definitely trends more towards a punk sound, with some bonus rapping. They formed in 2008 and have been on hiatus since 2013 due to one of the member's increasing health problems. Although you can purchase both of New Strike Zipper's albums on Amazon, information about them is hard to come by. Until they get back into the swing of things, these girls might remain a relative mystery. Either way, what they left us with is truly kick ass.
Surely there are bands missing from this list; if you know one, shout them out in the comments below!