Kennedy: No Sex, No Drugs, Just Rock and Roll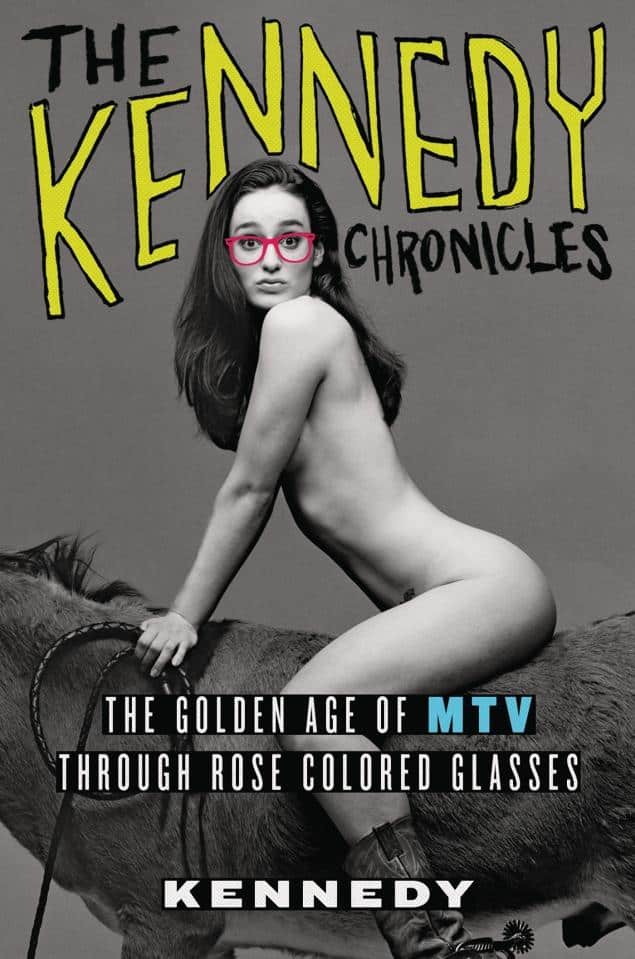 Lisa Montgomery is not a people pleaser. The commanding figure formerly known as the VJ Kennedy made her mark as a polarizing presence on MTV when it was damned near impossible to ignore her. Andy Schuon, who jumpstarted her career by hiring the 19-year-old to DJ at Los Angeles radio stalwart KROQ before bumping her over to MTV one year later, compares the television network's once-upon-a-time pop culture monopoly to "opening up a browser on your computer and there being no search window." In a sense, MTV and all those hosts held us hostage, which possibly explains why some viewers resented the high-profile cast members they were forced to endure to see Kurt Cobain cover David Bowie, unplugged.
Unlike fellow hosts Karen "Duff" Duffy, Daisy Fuentes, Idalis and Bill Bellamy, Kennedy was not as cool, glamorous or charismatic—at least, not in the traditional sense. But it was exactly her unique, nonconformist ways that endeared her to a legion of viewers who marveled at the brash, bespectacled nerd confidently interacting with big-time celebrities, often while she was clad in a decidedly unsexy pair of oversized patterned PJs. More than two decades later, Kennedy dishes on those experiences in The Kennedy Chronicles, a work of nonfiction that's part memoir and part historical snapshot of a bygone era featuring interviews with those who contributed to her evolution, from morning-show intern to rising star to now a happily married snowboarder mom and special correspondent for Fox News.
On that … Imagine spending your formative years in the spotlight—now picture yourself as a young Republican virgin who abstains from alcohol and drugs, employed by a massive entity celebrated for its liberal, hedonistic, anti-authoritarian ideals. Kennedy kept her conservative politics relatively close to the chest, though she certainly didn't lie about her party affiliation—and as her stature grew she became increasingly outspoken, famously taking such critics as Roseanne Barr to task when outwardly challenged. Still, to this day many are surprised to learn—or remember—that Kennedy isn't a Democrat. Why should it matter? Because MTV was ostensibly the voice of a new generation and that generation didn't buy into the old guard. Or, at least, that was the message implicit in MTV's 1992 Choose or Lose campaign, which started with then-Governor Bill Clinton responding to questions posed by an audience of 18- to 24-year-olds. When Clinton became president, MTV celebrated with a bash that Kennedy recalls barely tolerating, "but being so new to the fold I was hardly in a position to voice my views with anything more than private eye rolling and dry heaving." Admittedly, her vitriol in Chronicles is somewhat off-putting, however she pairs bitter asides with compassionate insights to reveal a complexity that's pretty fascinating to read.
Kennedy might have had her qualms with MTV as a democratic mouthpiece but her passion for music trumped election-year politics. She took her job seriously and approached each sit-down with artists as an opportunity to explore their process, their work and their opportunity to get noticed on the era's single most influential platform. In a way, Kennedy handled interviews the way many of today's best podcasters treat their subjects—with a casual, irreverent, offbeat approach that often gave way to deeper meditations and dialogue that defied mainstream treatment. Bands that reciprocated her unpretentious style, however unusual it might have seemed, are portrayed in Chronicles in glowing terms; acts that pulled what she deemed to be prima-donna attitudes are soundly berated (read: she and Thom Yorke should probably never be in the same room again).
Of course, in Chronicles there's also plenty of juicy, behind-the-scenes gossip to keep the pages turning. While Kennedy's fierce commitment to values could have ostracized her from her peers, ig instead sent her into the inner circles of some of the most publicly guarded musicians. In addition to ex-flame Dave Navarro, she maintained chaste relationships with Trent Reznor and Dweezil Zappa, achieving intimacies that transcended romantic love. In one touching account, she recalls being present for Frank Zappa's secret funeral, the only non-family member to say goodbye before the press caught wind of his passing. It's one of the few moments in Chronicles when Kennedy sidelines her fast-talking, name-dropping (but who wouldn't name drop with the life she had?) delivery for seriously heartwarming candor.
Another such moment is Kennedy's brief—and, again, chaste—dalliance with Goo Goo Dolls' frontman Johnny Rzeznik, with whom she shared a magical night in New York. Their pairing went no further than a kiss, but the things they told one another were apparently raw and potent enough to inspire the Dolls' first Billboard hit, "Name." Yep, that soaring ballad is about cuddling with Kennedy(!). Cuddling, seriously. She reminds us again and again of her enduring virginal state. Impressive, no doubt.
Overall, the book's chapter placement is a bit curious (as if Kennedy wrote several pieces for separate publications, which the editor then threw together without cleaning up for anachronistic references or redundancies), but textually delaying the satisfaction of her losing the big V makes for one hell of a climax.
You don't need to love or agree with Kennedy to appreciate the extraordinary string of experiences she packed into five years on MTV. If you ever had a fondness for "120 Minutes," "Alternative Nation," "MTV Beach House" or any of the shows programmed around actual music videos rather than depictions of minor celebrity "realities," by all means pick up The Kennedy Chronicles. It's a loud, quirky, potentially offensive and ultimately entertaining perspective on a world that, for better or worse, just doesn't exist anymore.