– Lucinda Williams – Down Where the Spirit Meets the Bone (Highway 20)
Boxx Magazine | Lucinda Williams – Down Where the Spirit Meets the Bone (Highway 20)
Sunday 20th September 2015,
News
Lucinda Williams – Down Where the Spirit Meets the Bone (Highway 20)
Brett Aaron Marlow October 6, 2014
Overall Score
4.5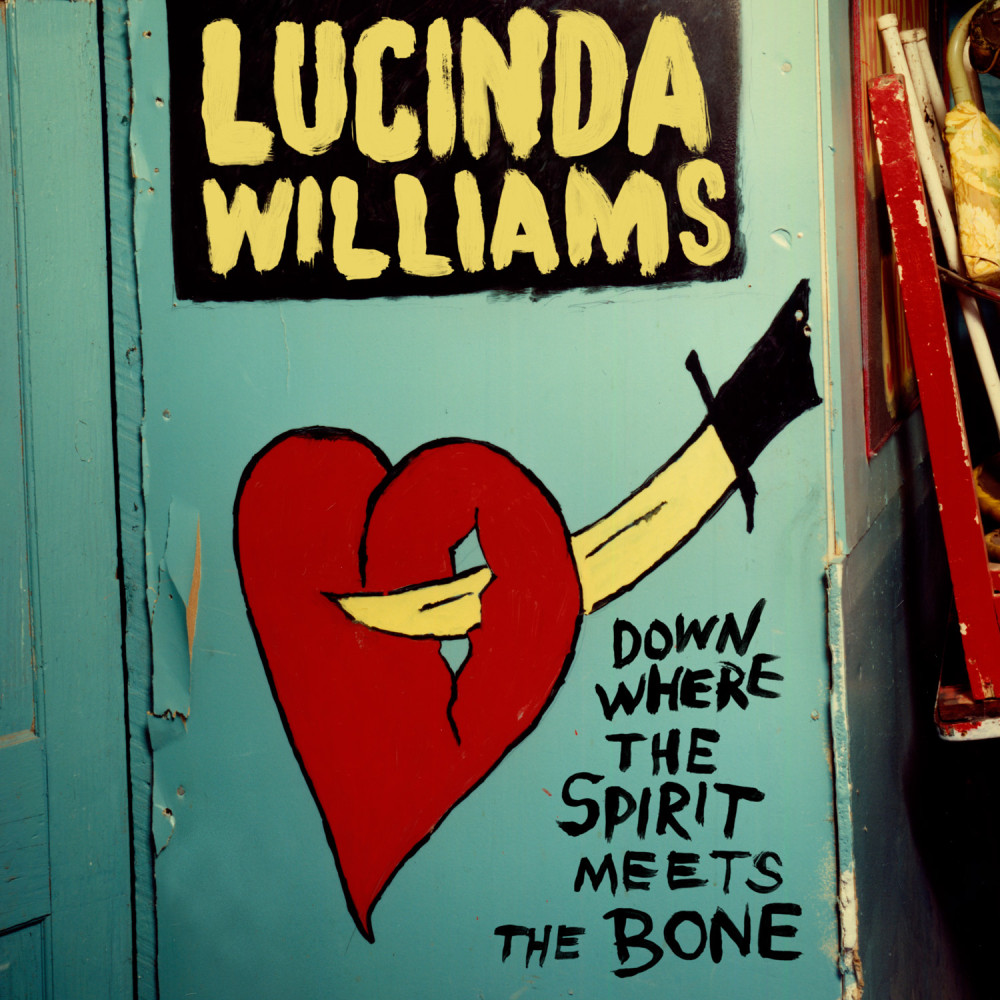 It's hard to believe Lucinda Williams is 61-years-old as she enters the corner stage of a Chicago saloon at nearly midnight, her blonde hair ruffled and teased. Her black bra peeks out from her cardigan and T-shirt, even some tatted skin shows.
"Hey, y'all," she says in her signature raspy Louisiana drawl, greeting an intimate crowd of 100 people. It's a Saturday night in a usually deserted downtown and she's flipping through worn pages of a songbook set to the left of her mic, turning back to swap glances and queue up the set for the night's impromptu show. She grips her capo one last time, ensuring it's on the right fret before roaring into her Car Wheels on a Gravel Road classic, "Can't Let Go." The crowd is wild. Earlier in the day, city officials cancelled her opening gig for Jeff Tweedy at the Taste of Chicago due to inclement weather. But Williams' cult following quickly took charge on social, scouting out venues to host the singer for a night of songs about drunks, heartbreak, addicts and dirt roads. Did anyone really think a little rain could ever slow Williams down? A listen to one song of hers, and you can tell her life hasn't been a quiet one.
Williams, who will need to add a few pages to flip through to that songbook, has released her most valiant effort yet. On the night of her Chicago show, the singer effortlessly blended—if not outshined—the newly debuted tunes against her cult-classic materials. Down Where The Spirit Meets The Bone is a double album of 20 songs (18 of her own), the title taken from a line in her famous poet father Miller Williams' "Compassion," a full song his daughter tackles for the first time. Even though the concept of a double album isn't new for Williams—mid-2000s West and Little Honey where penned as one release, but later sold as two on Lucinda's former label Lost Highway—it seems she's found her way away from label execs and down a similar dirt road. This metaphorical dirt road is one accidentally steeped heavily in country twang with pedal steel, horns and harmonica.
While this body of work contains songs of lost love, drunks, small town sentiments and heartaches, it seems as though Williams has once again found her own way to say and sing it. But this time is different; she's steered from usual production and studio stand-ins for a new, revived sound full of soul that draws from those never tiring Delta blues. Williams challenges herself with accentuated vocals that are made up of long runs, draws and scope, proving her southern accent is a heavier weapon than ever suspected or explored. This technique is highlighted on tracks like "Psycah-deltic" and "Foolishness," which, even after countless listens, never weakens its sustained traction.
Williams is best sung and stated on tracks like the more rocking "Protection" and "West Memphis," but outdoes her songwriting on "Everything But The Truth," singing, "God put the fire within/But you've got to light yourself/You got at it alone/You gotta gather it up/Ain't nobody gonna help/God put the fire within/But you gotta light yourself," putting any self-righteous or deserving person in their right mind.
The album is an easy listen—not that its storytelling is surface—thanks to clever and spontaneous solos that make sense, non-abrupt endings and spur-of-the-moment takes in studio. It's clear making this record was fun for Williams, as she peels her talents back to being a poignant songwriter capable of outdoing herself with each handwritten pen stroke of her next prolific poem. One thing is clear—Williams' soul is here louder and clearer than ever.