– Outside Lands 2014: Janis Tribute, Nocona Surprise & Whole Lotta Grouplove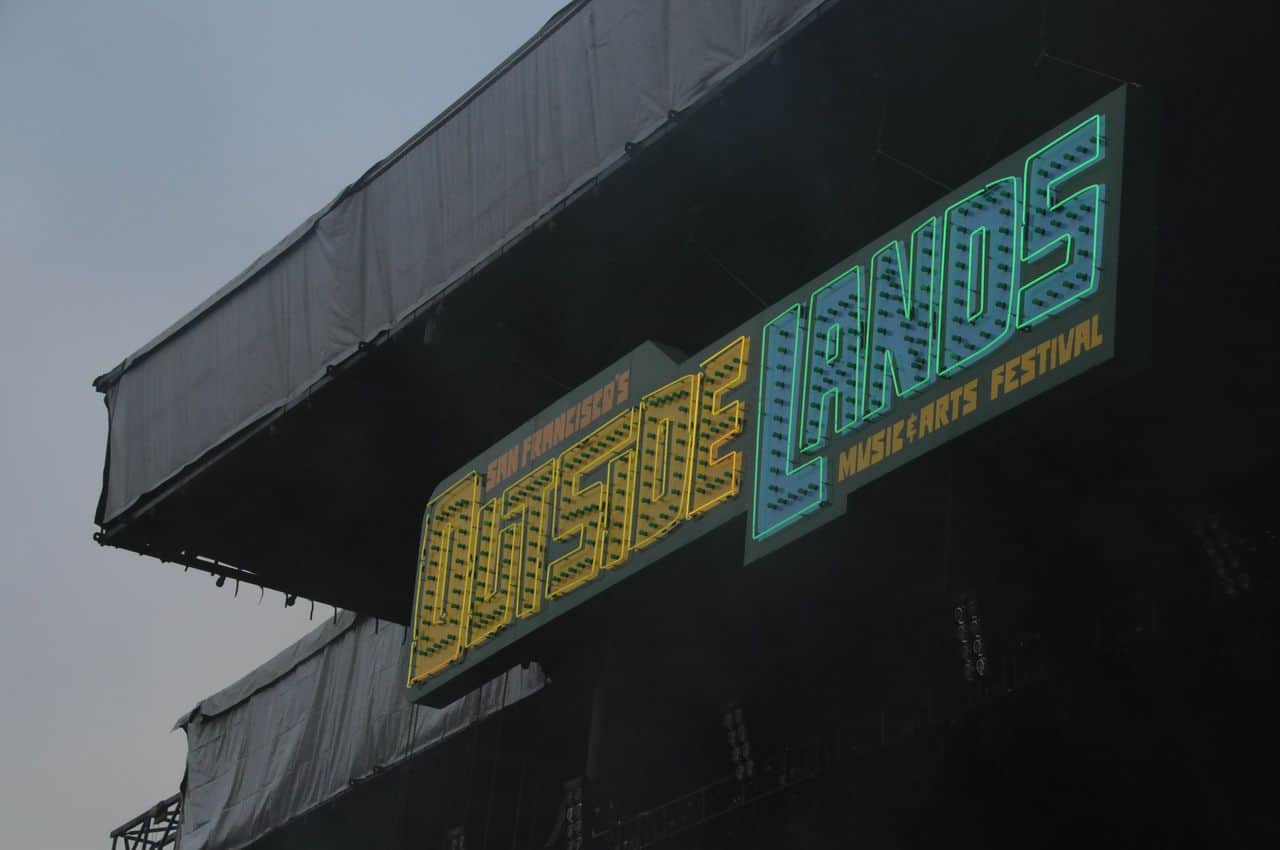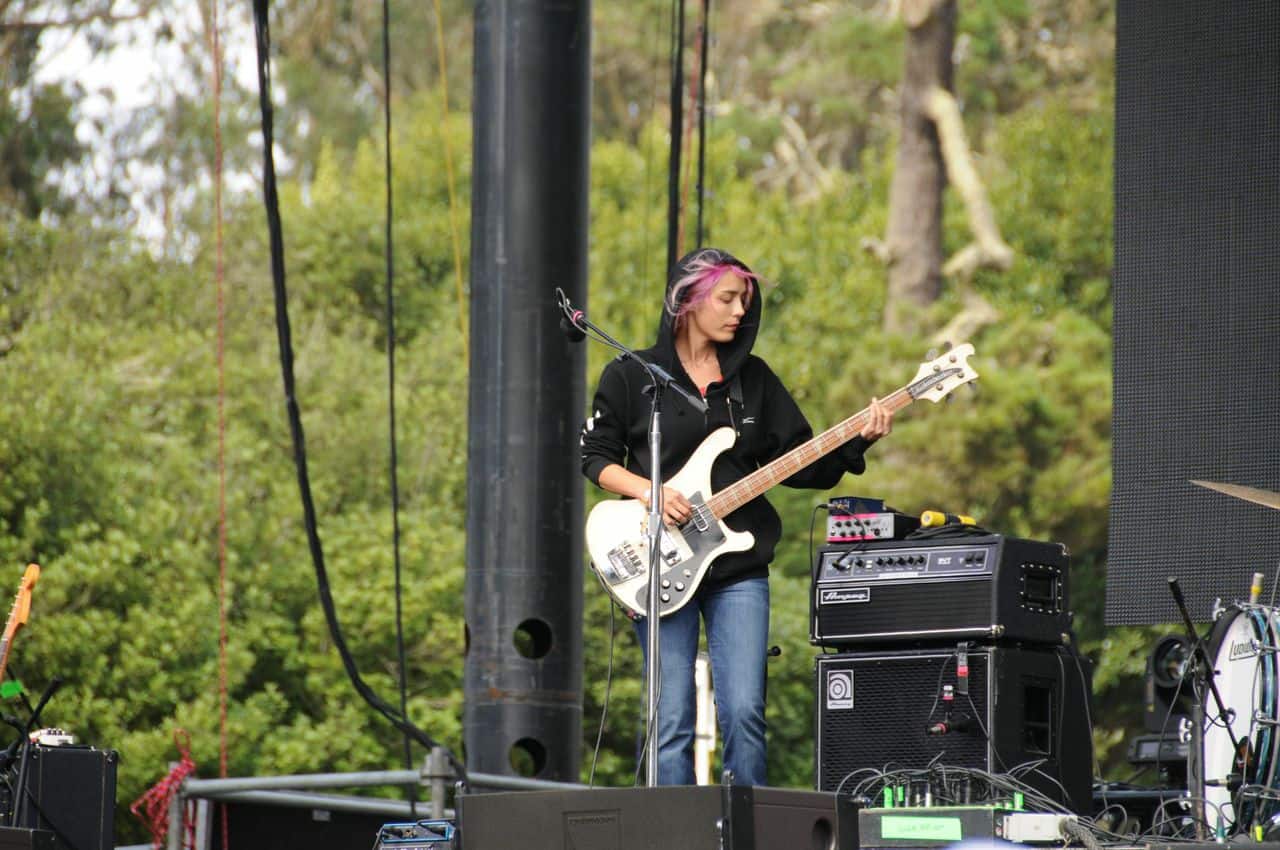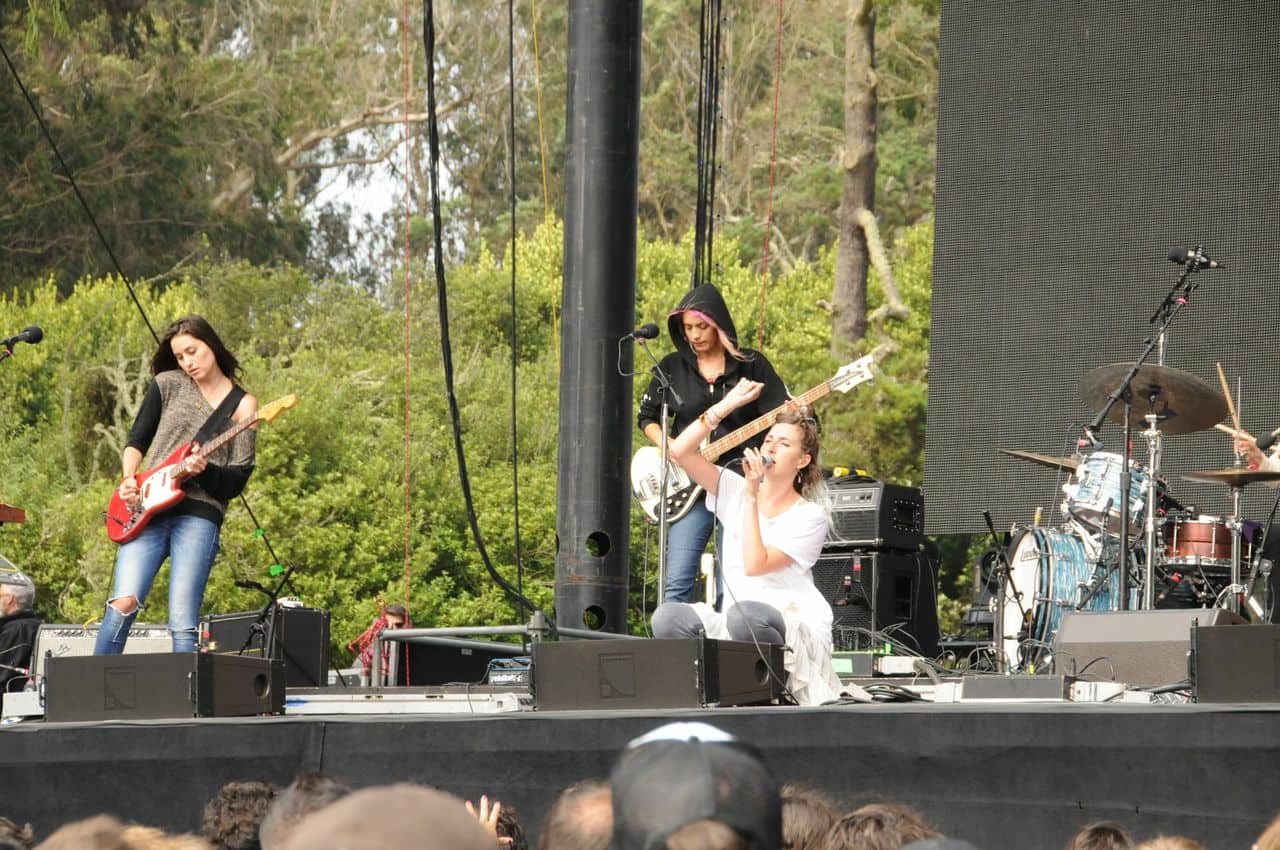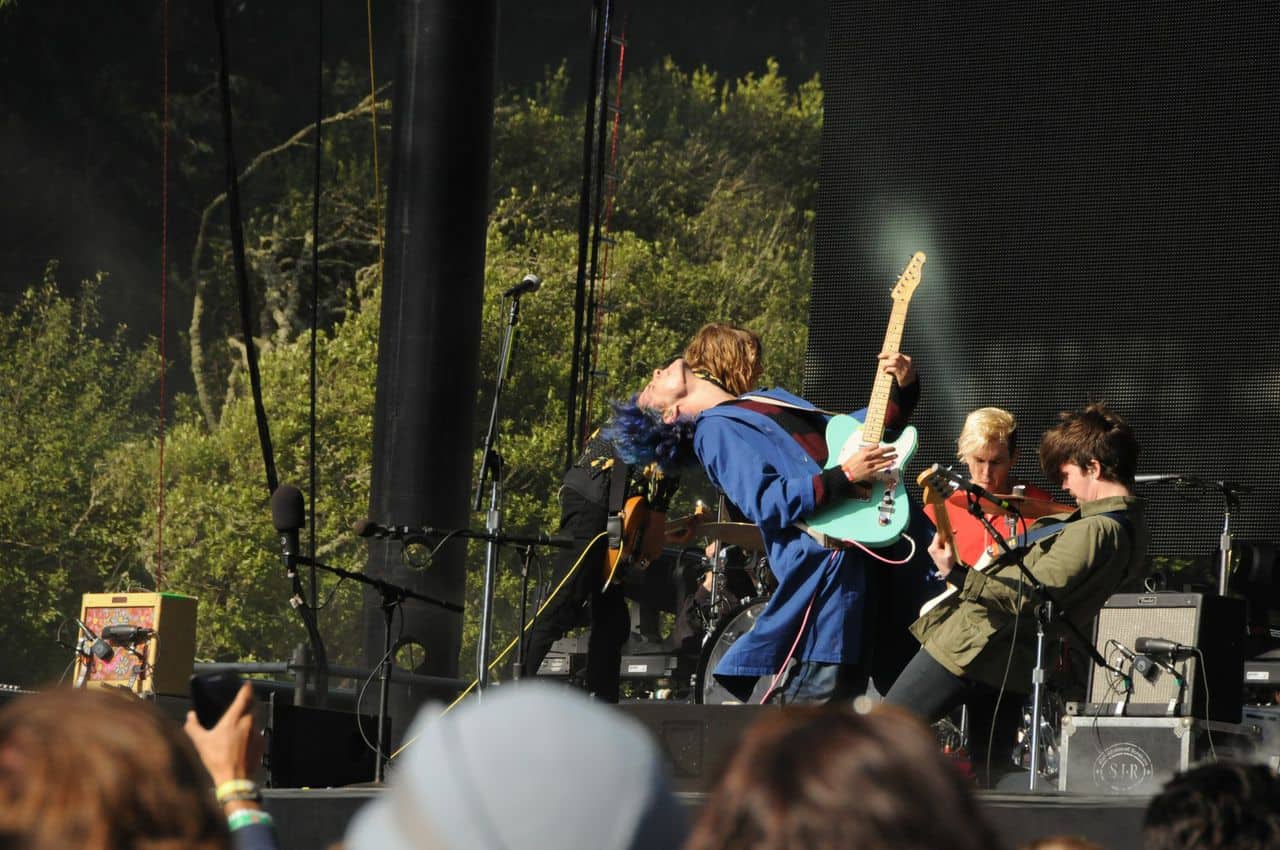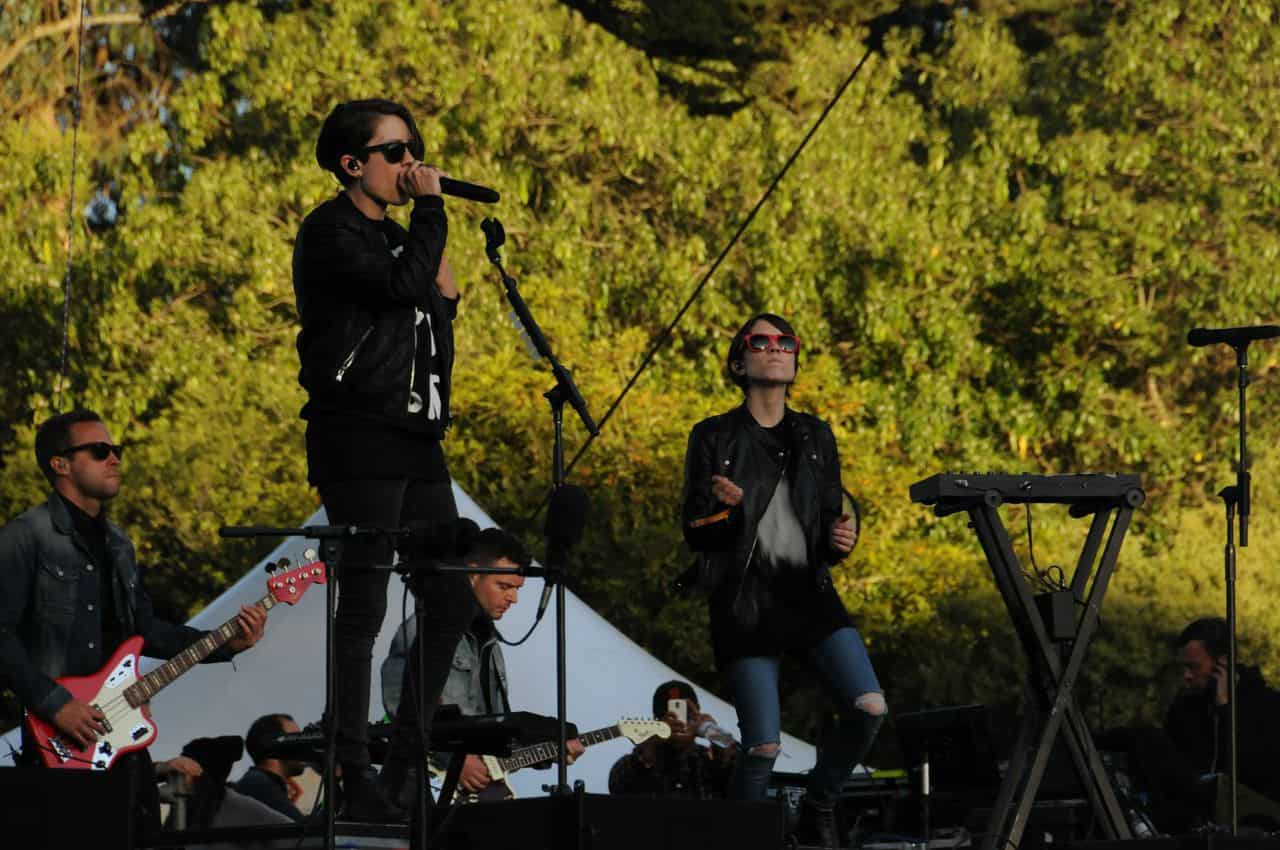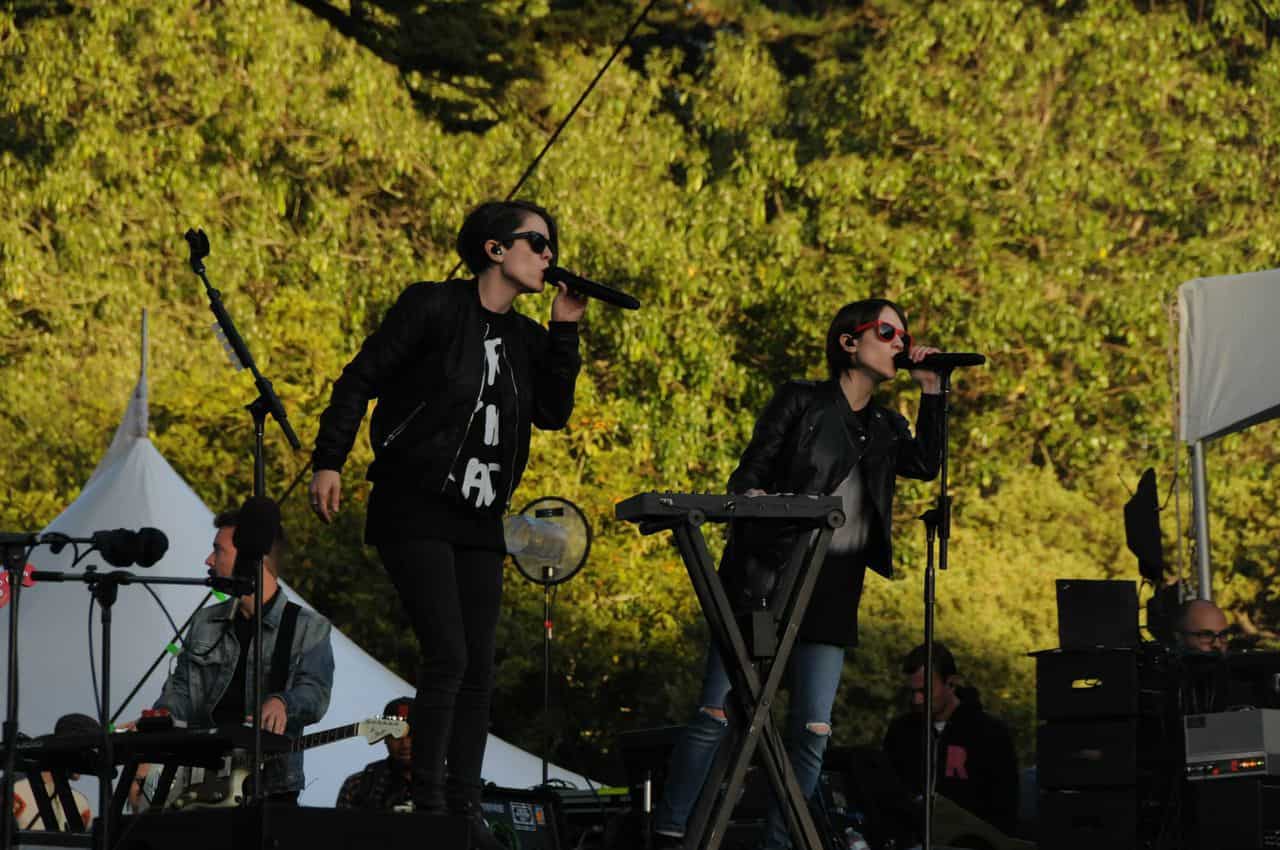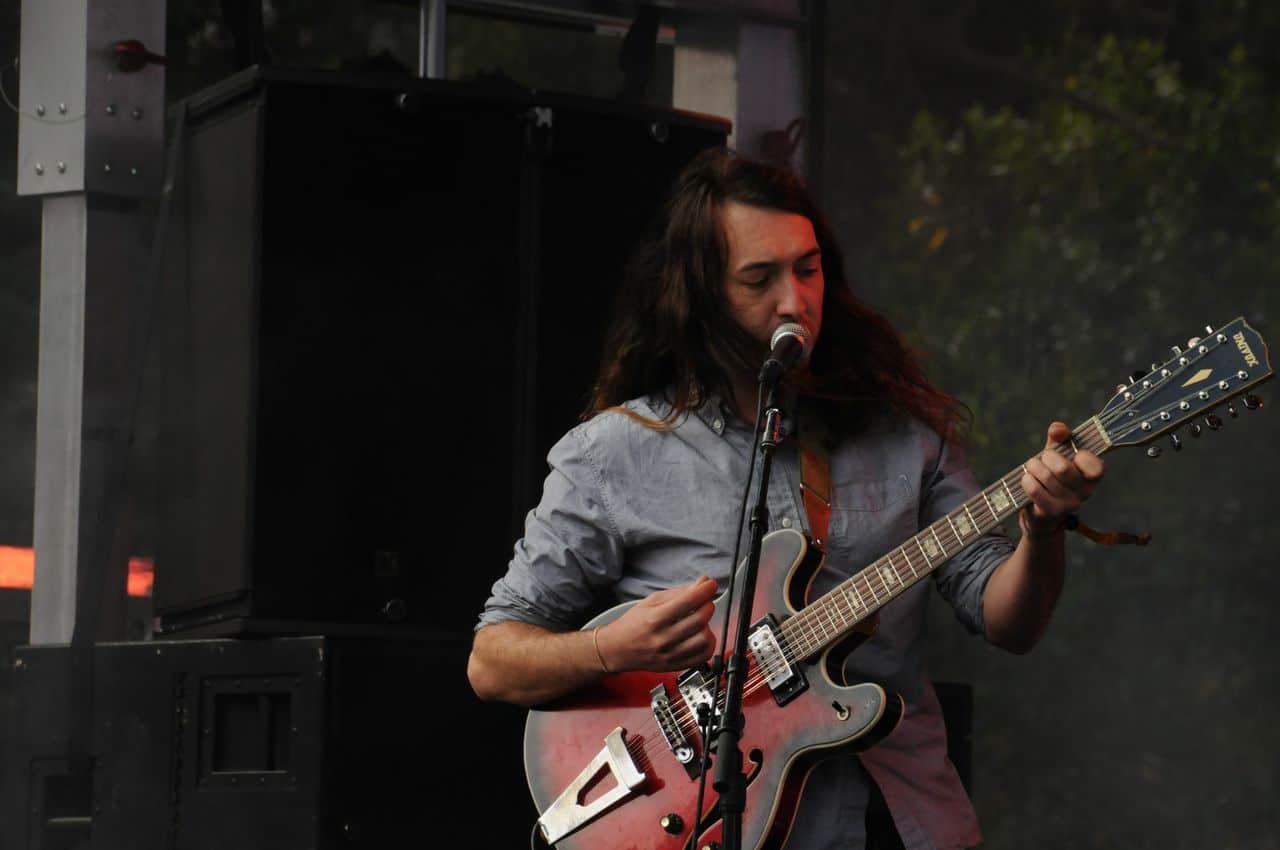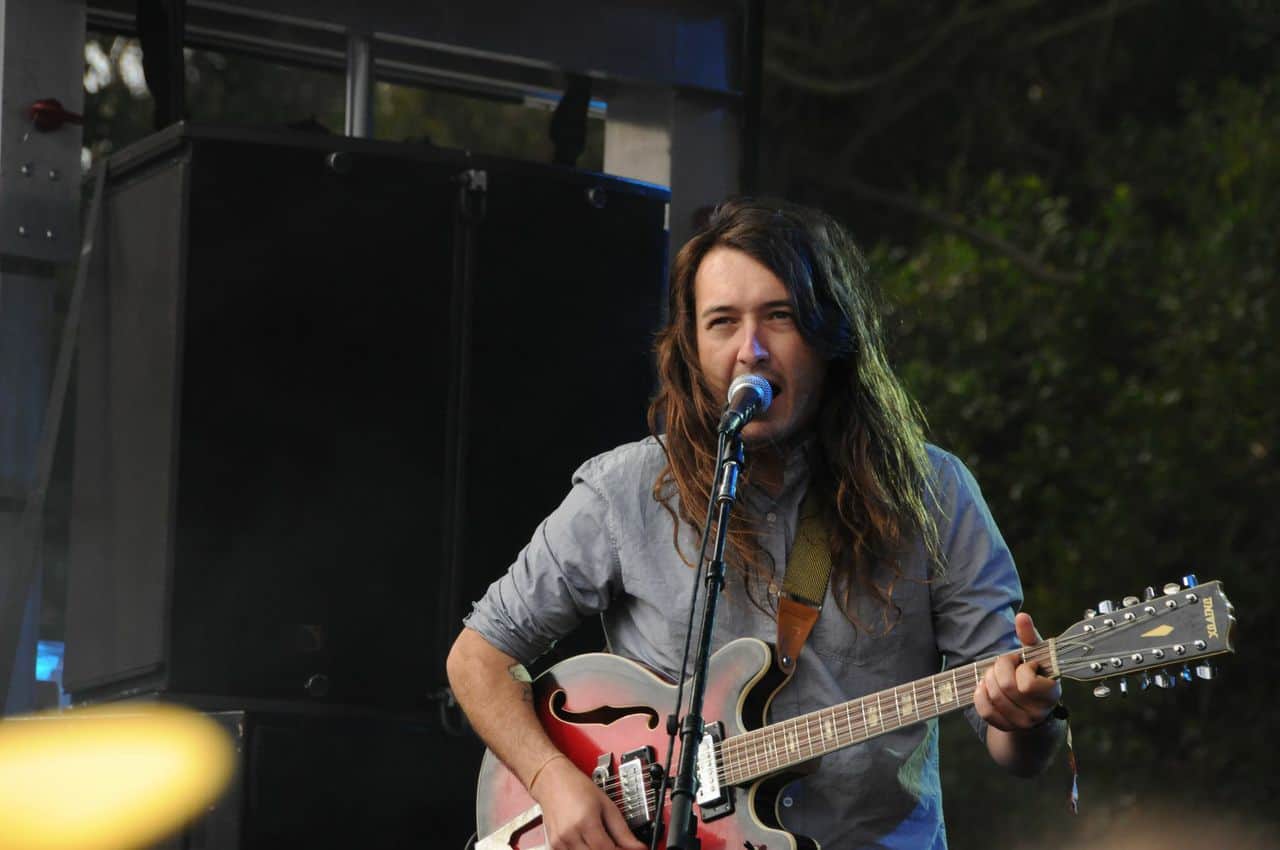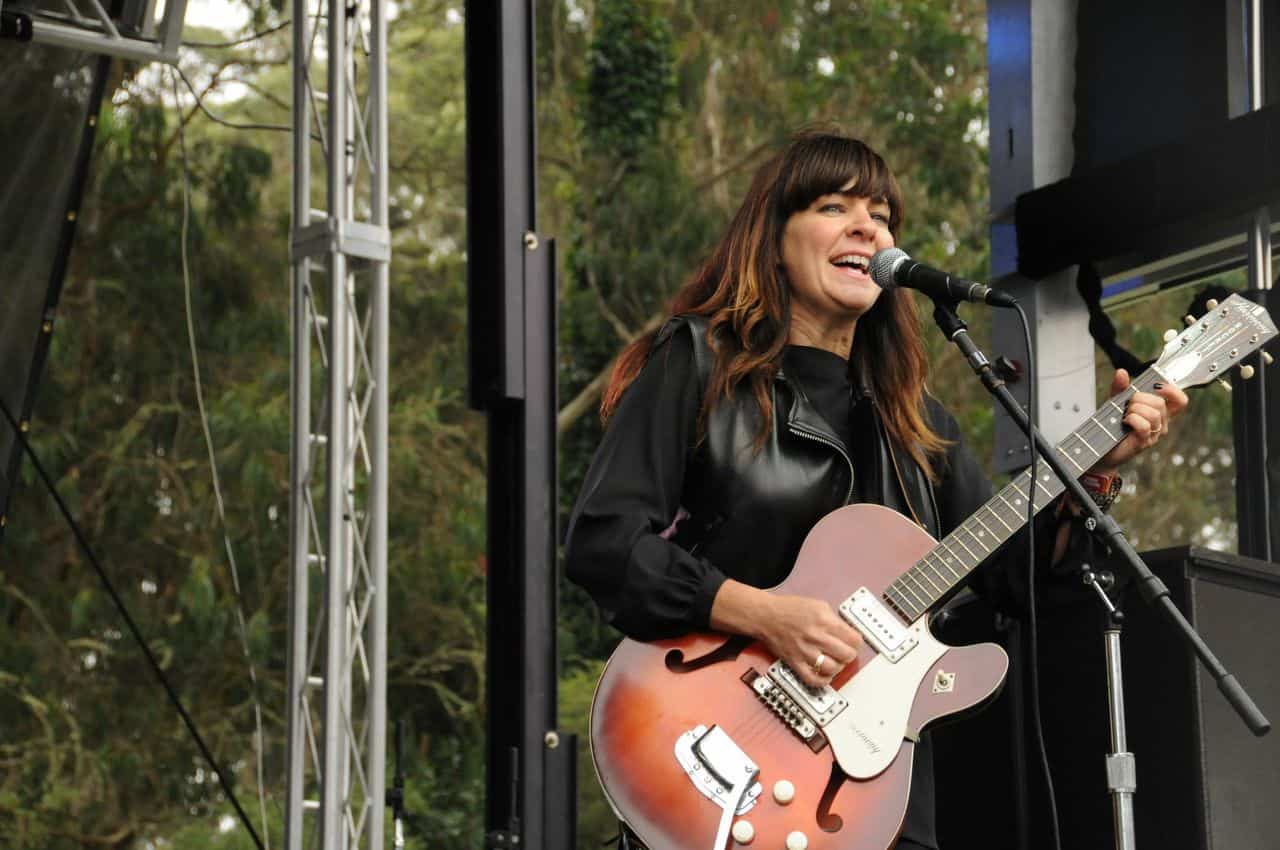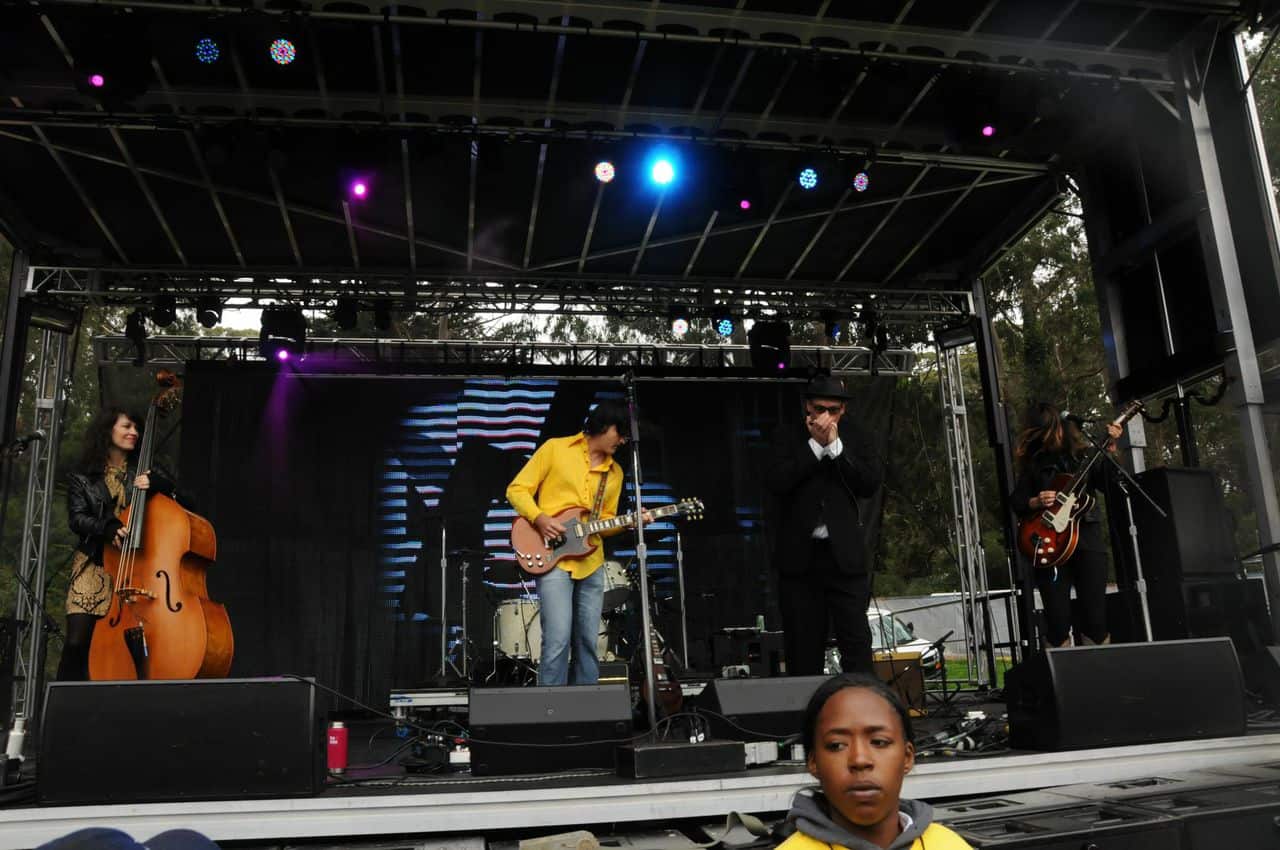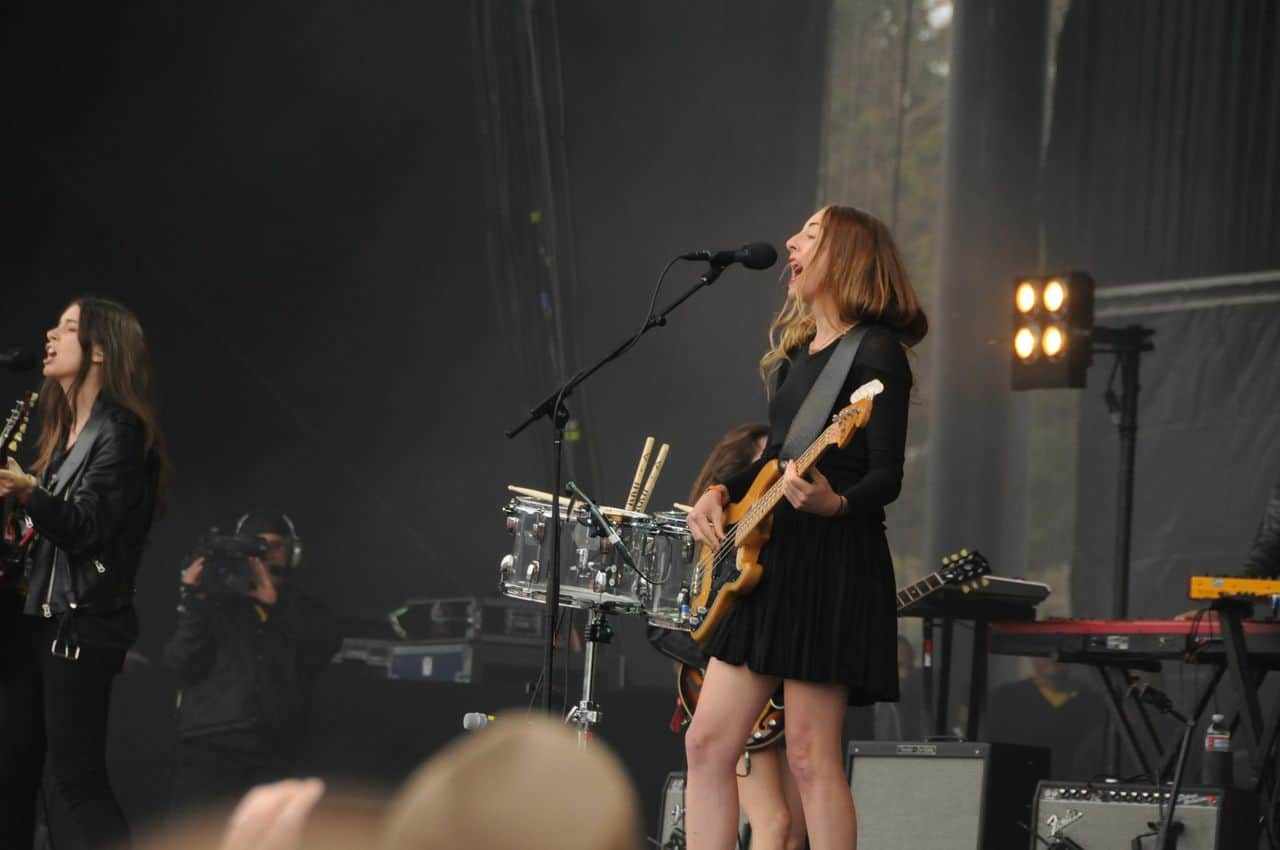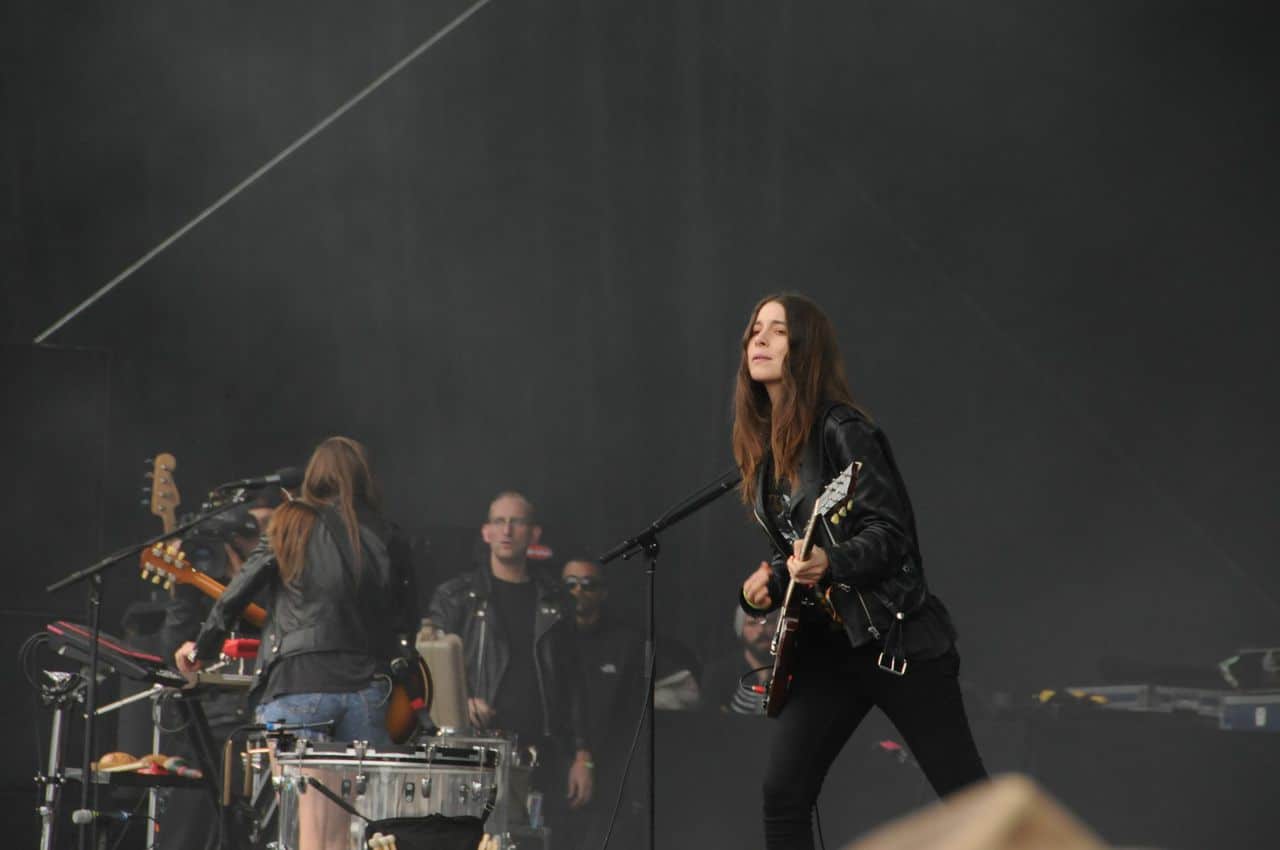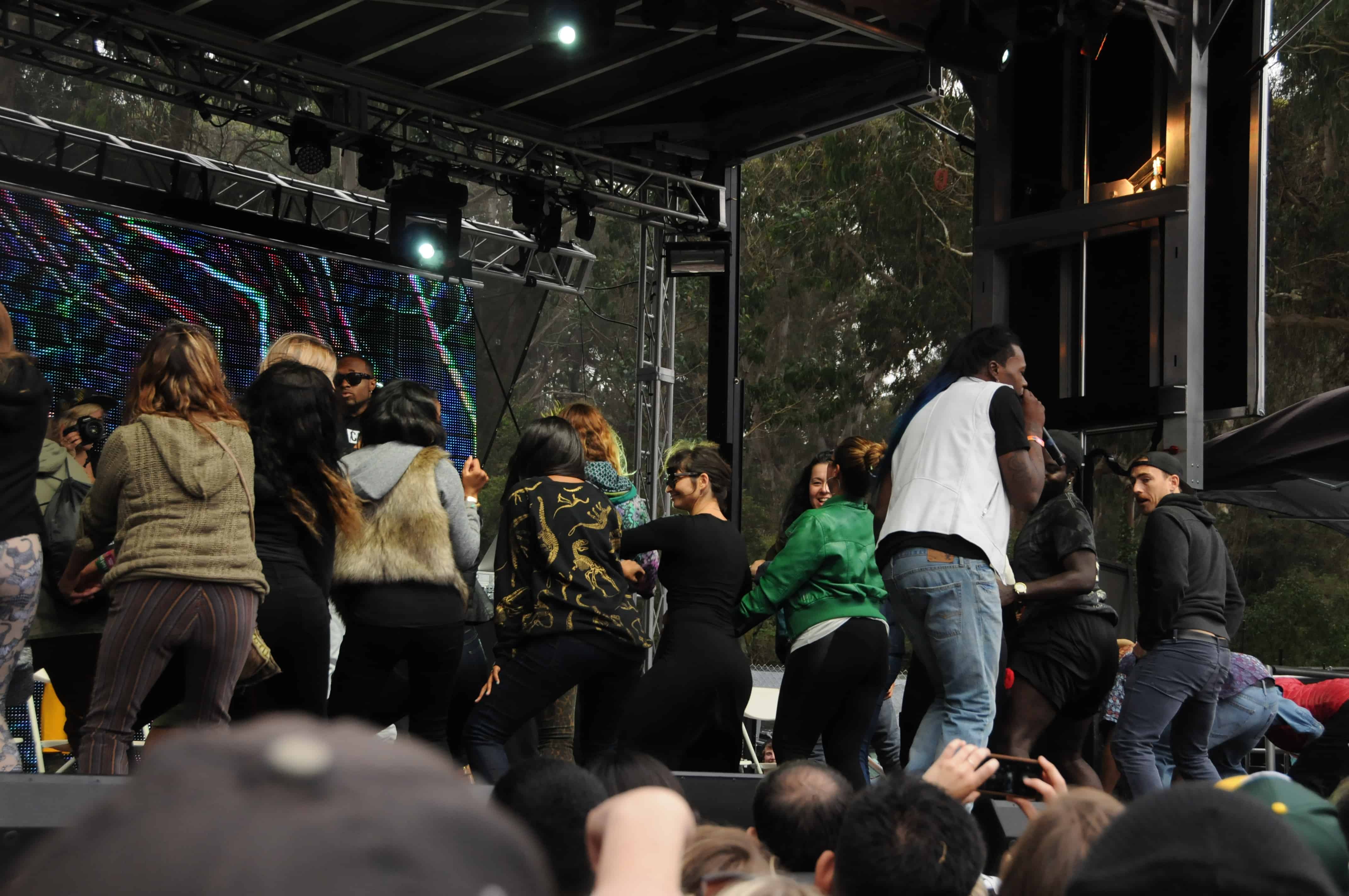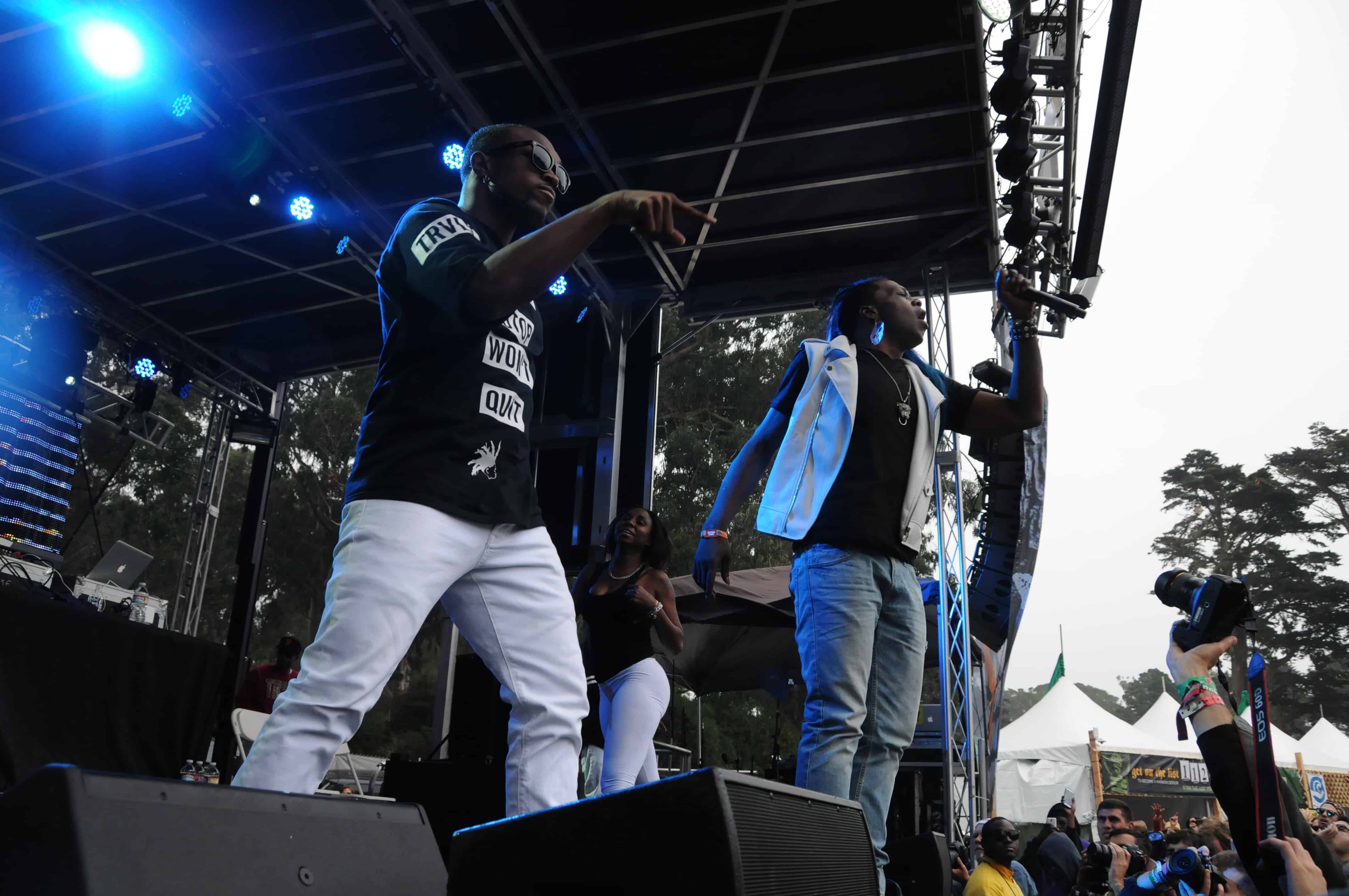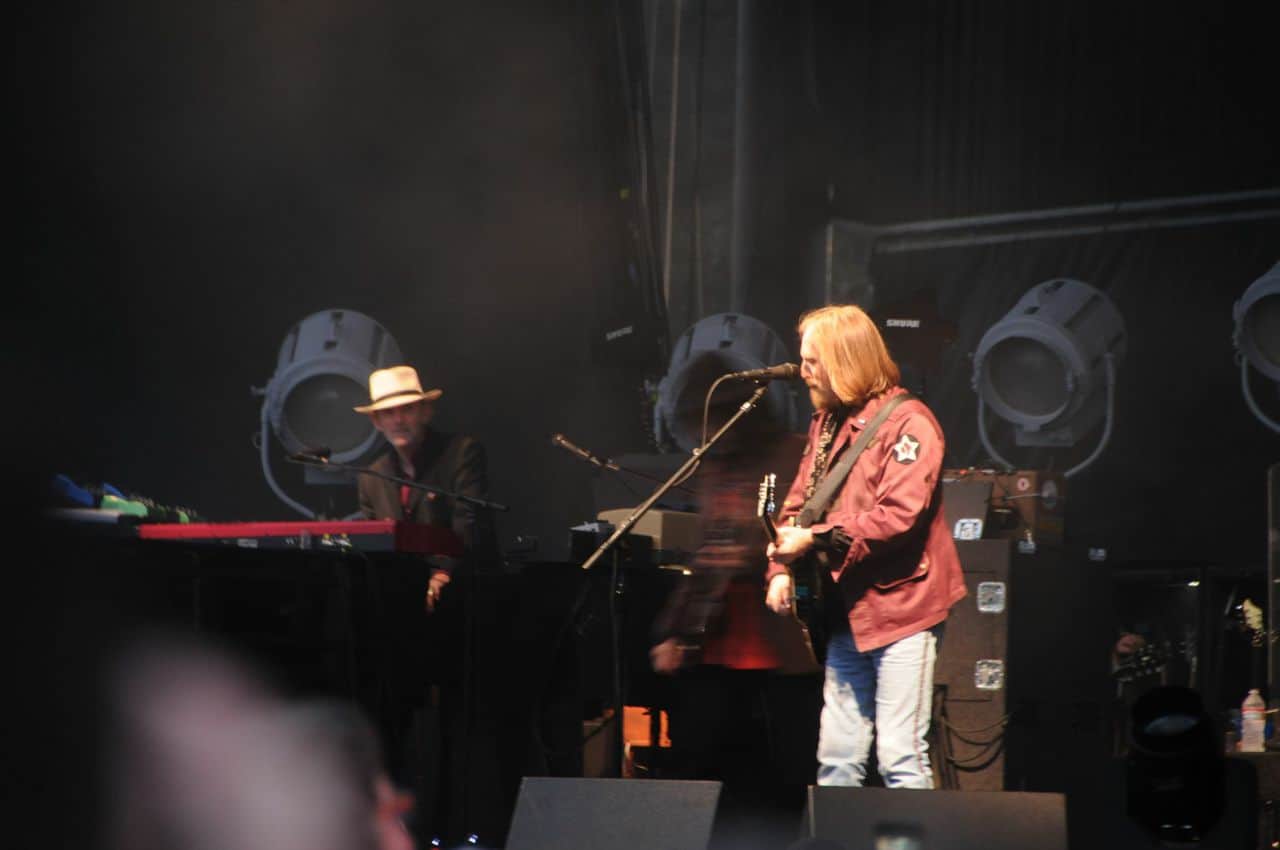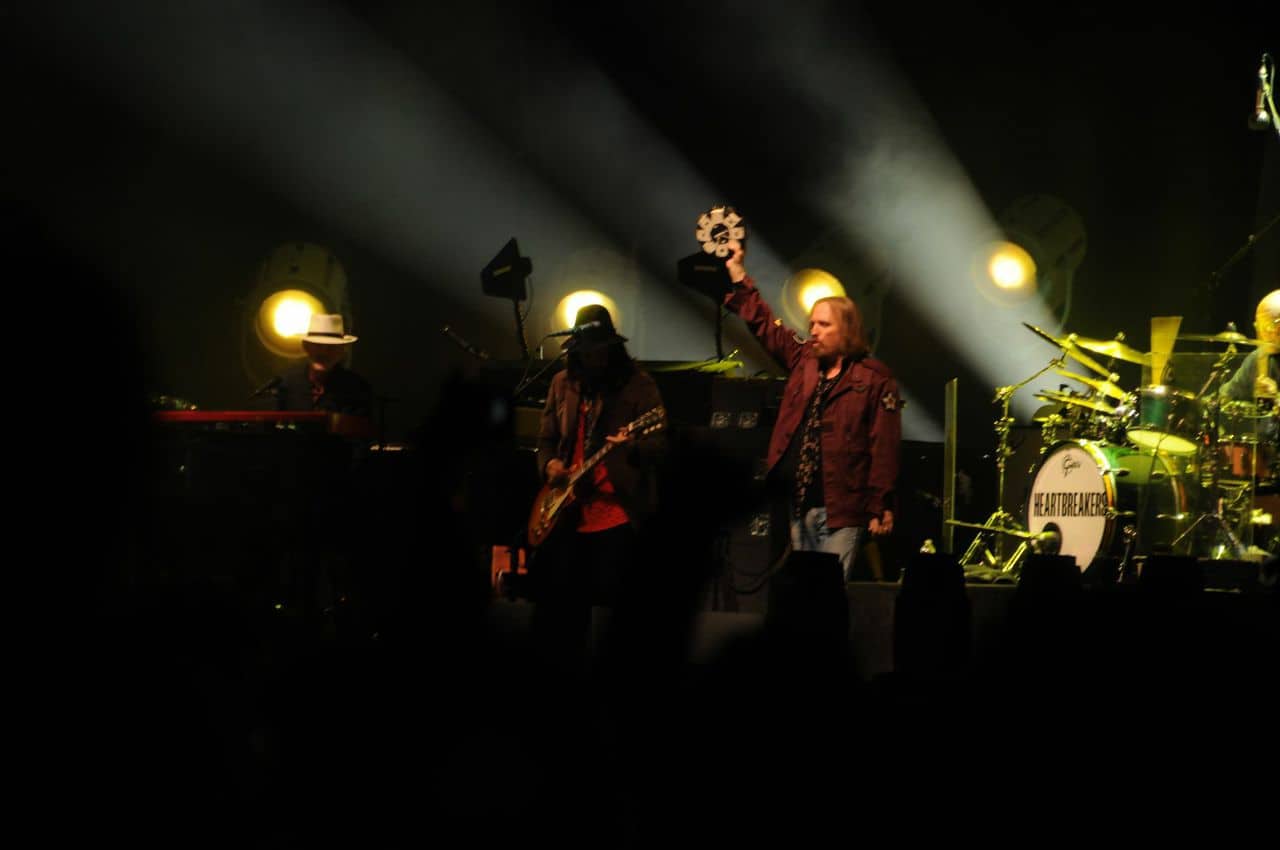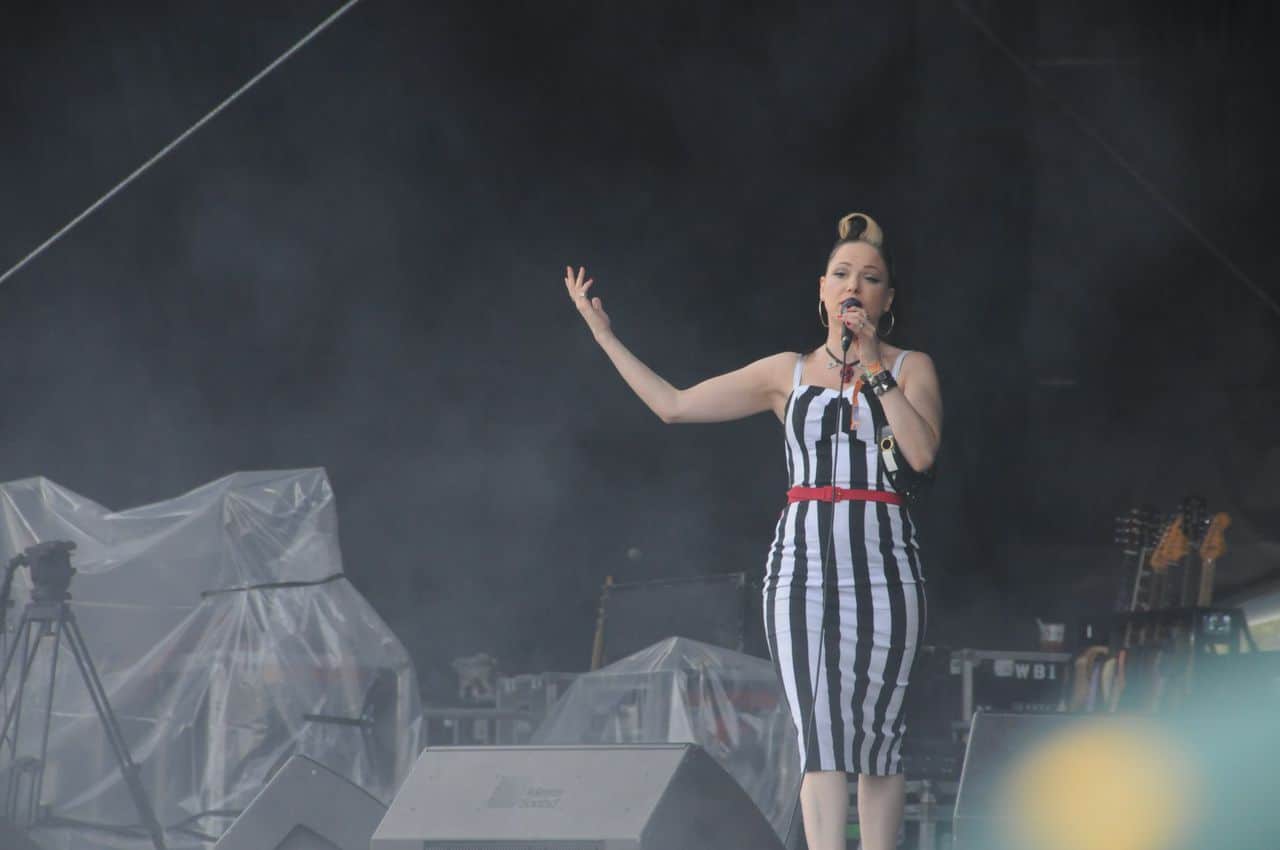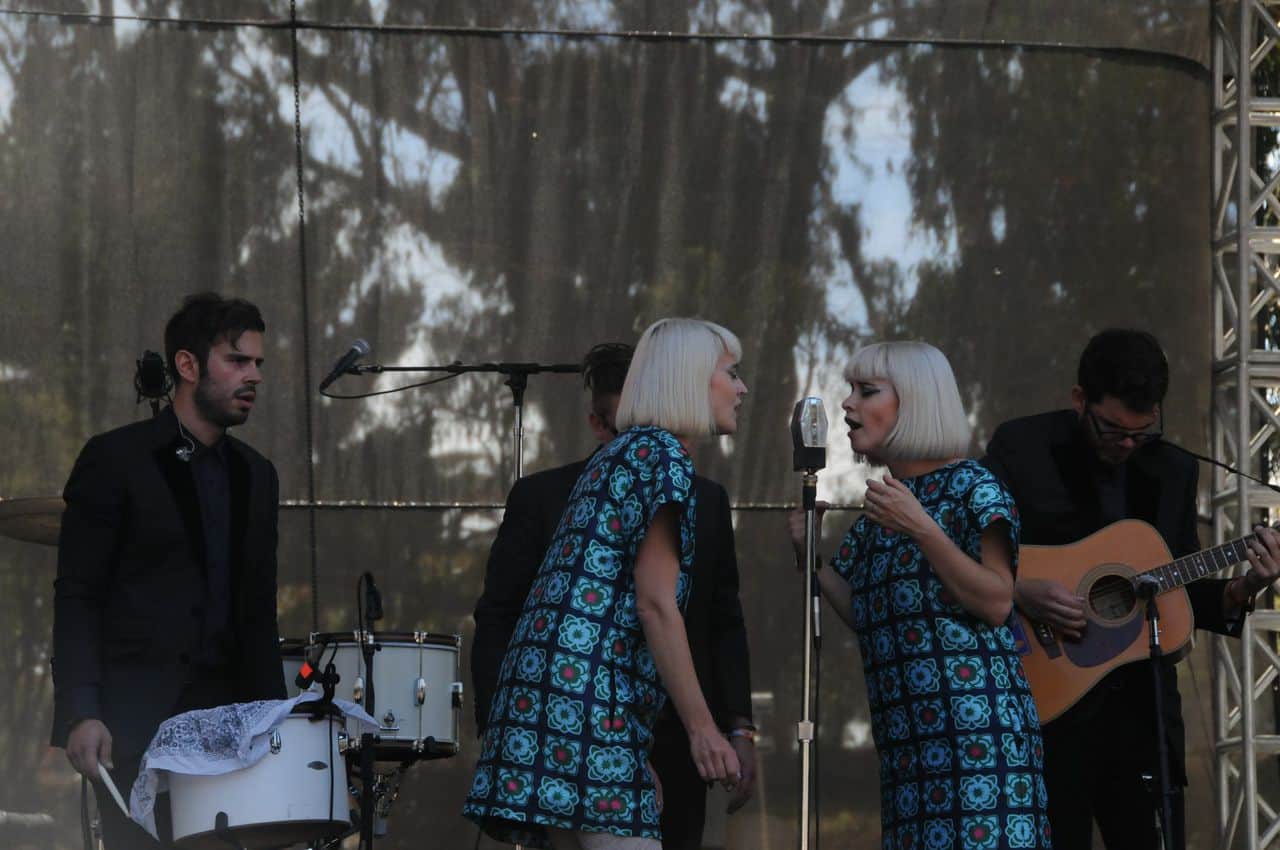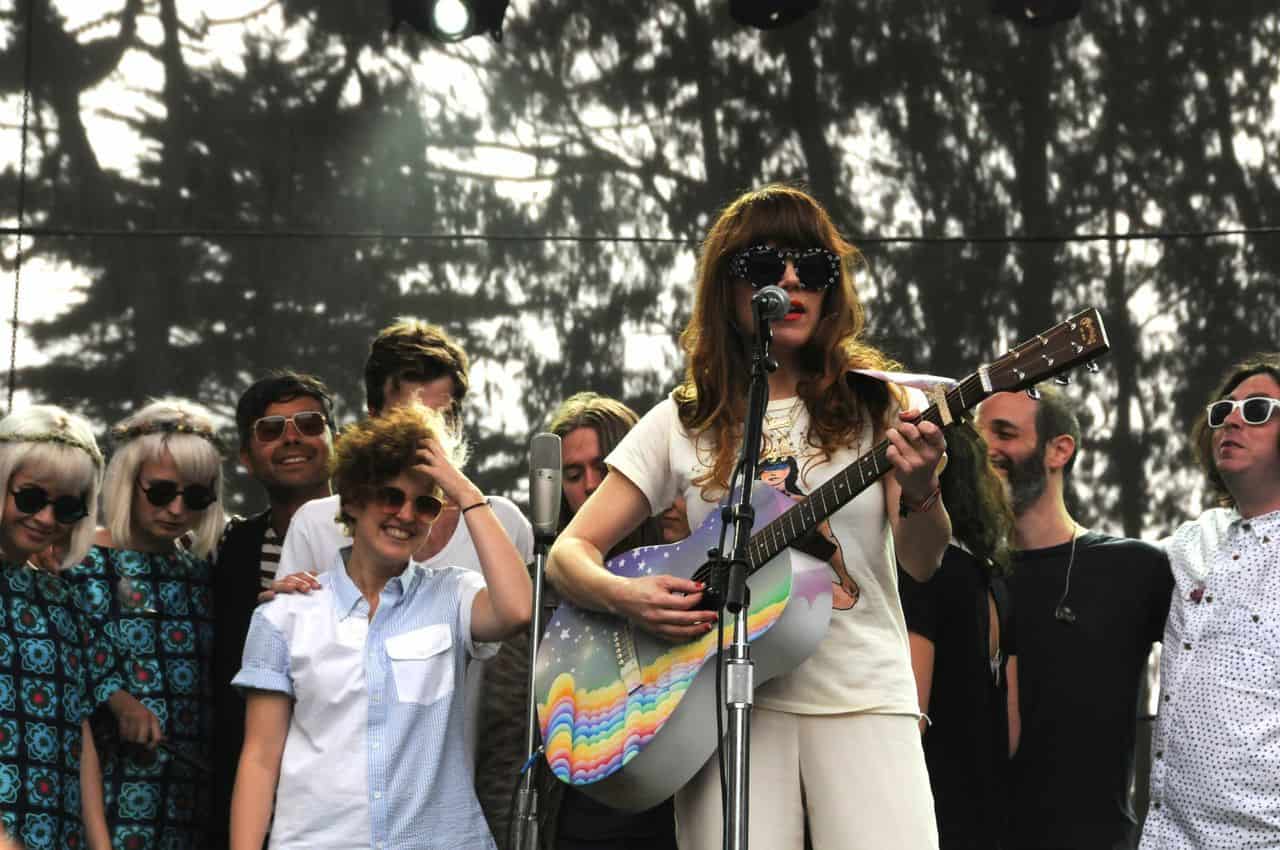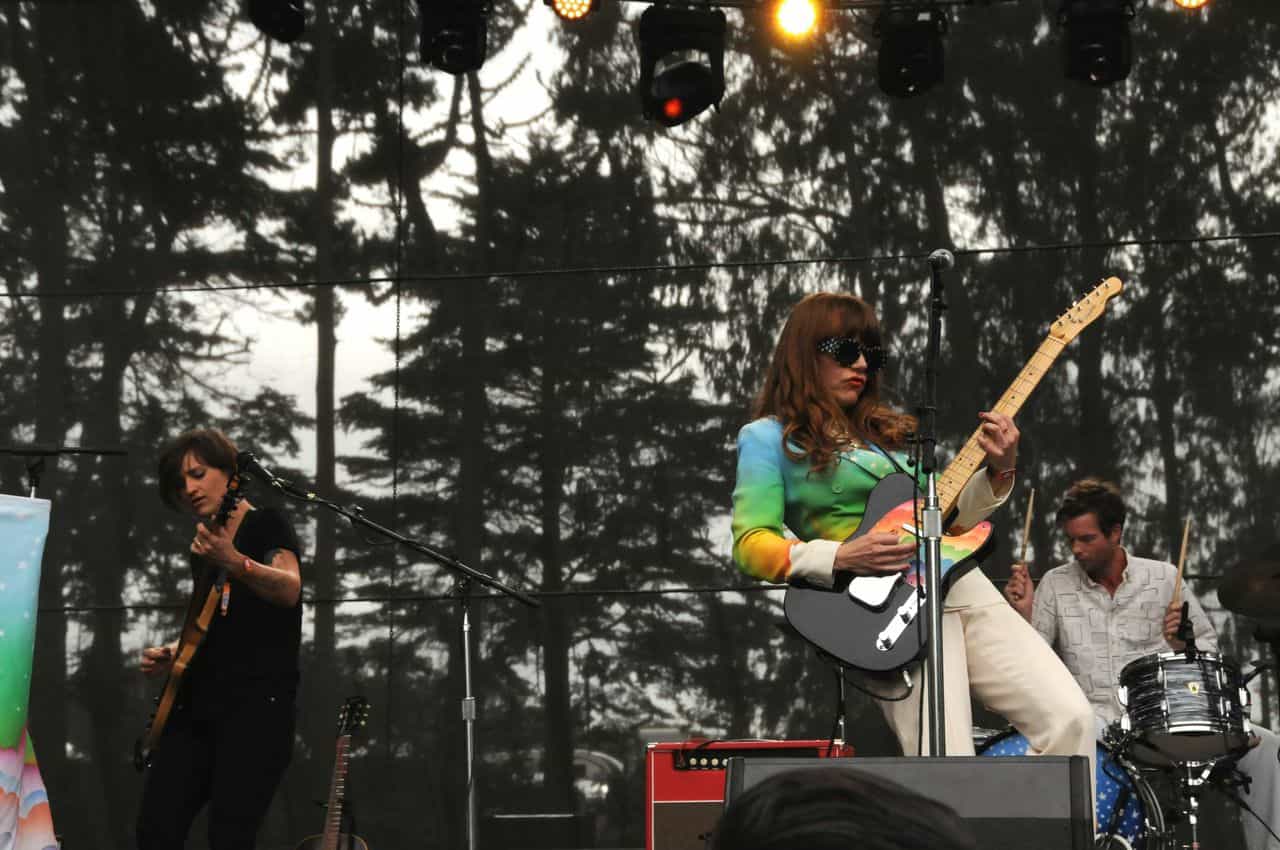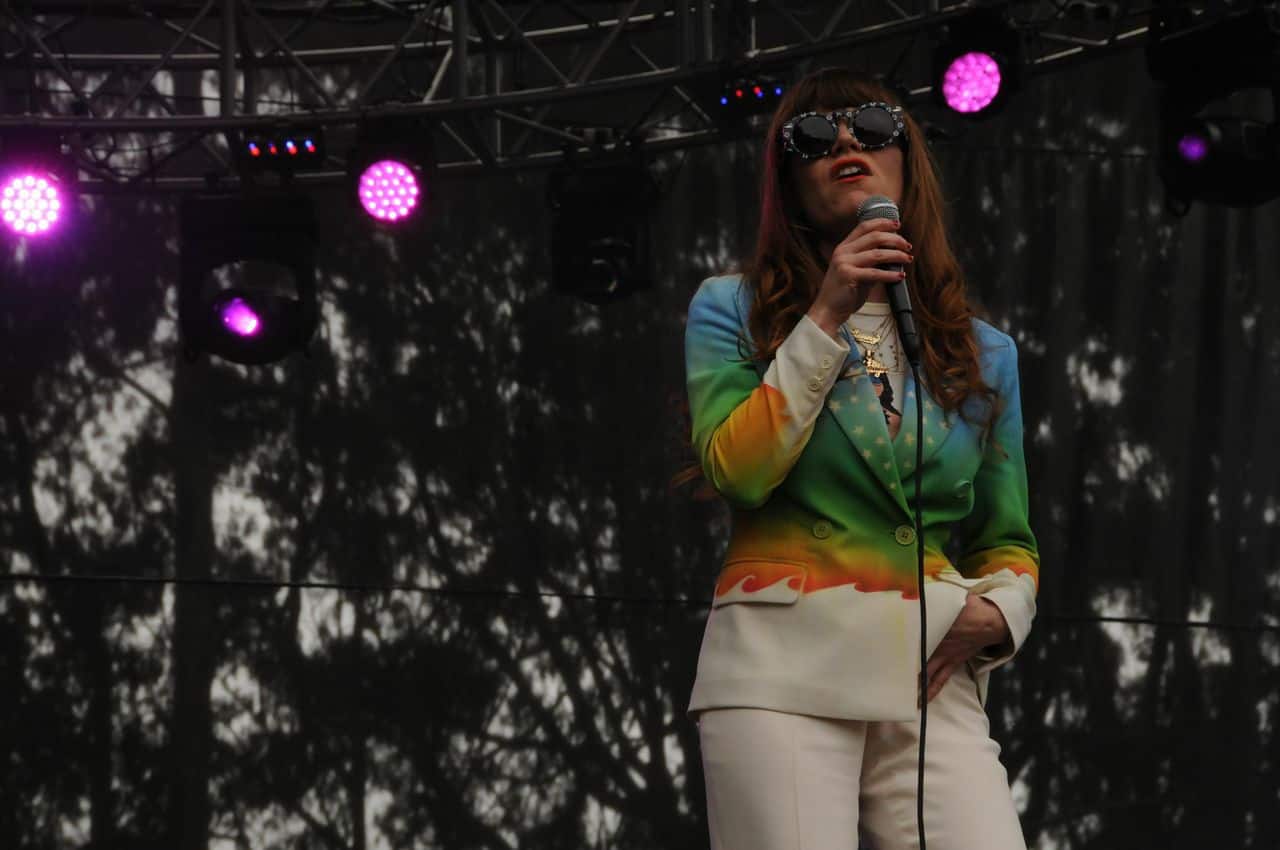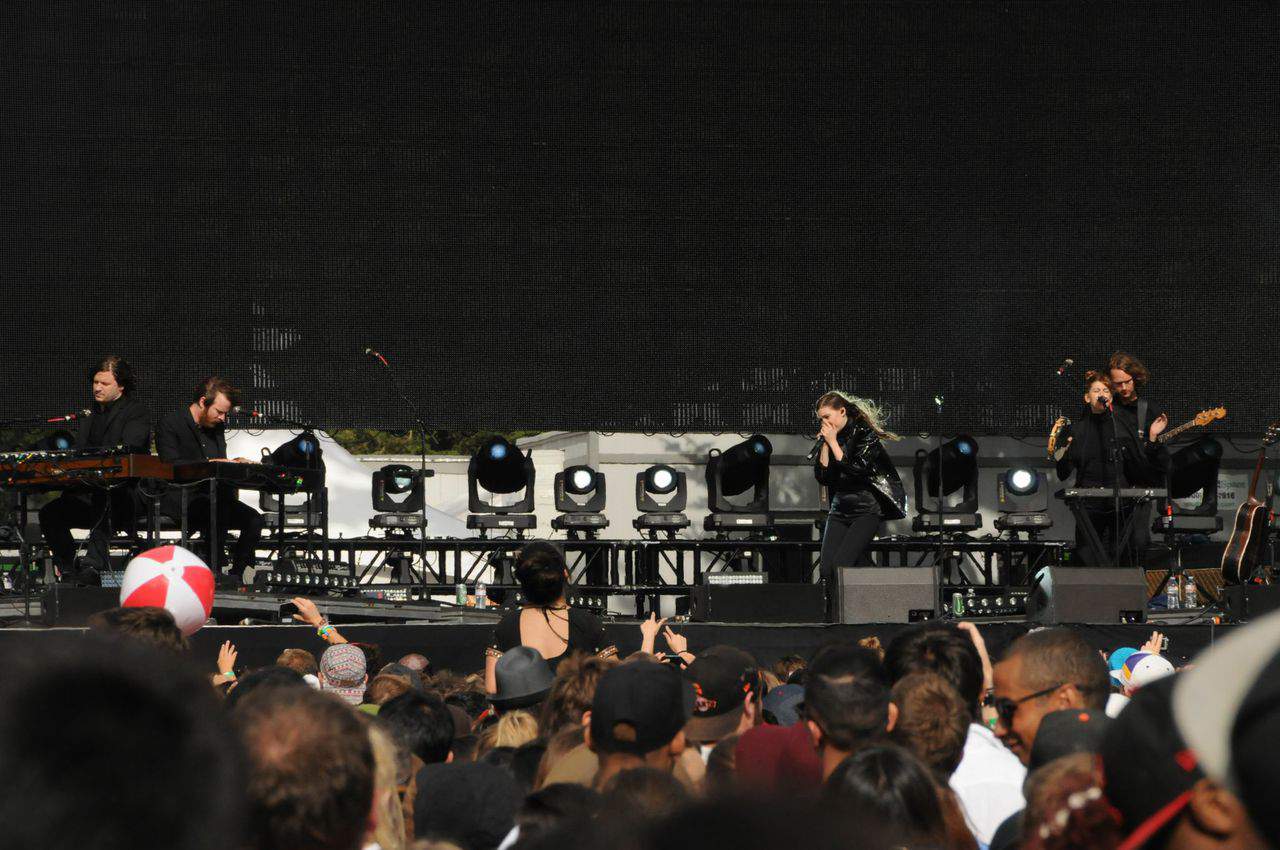 All photos by Devon Chulick
The annual Outside Lands Music and Arts Festival charged through Golden Gate Park for three days in August, this year bringing a more lady-centric lineup with more than a few dames that brought some of the biggest crowds of the weekend. Boxx brings you the best of the fest.
DAY ONE
USPS Janis Joplin Tribute
What better way to kick off the weekend than celebrating Janis Joplin's face on the newest USPS stamp? Outside Lands did so by putting together an all-star tribute to the musical legend and one-time San Francisco resident. The ever soulful Nicki Bluhm and country star Kacey Musgraves each paid homage, but it was Tony-nominated singer and actress Mary Bridget Davies who really brought the house down. With goose-bump inducing renditions of "Ball and Chain" and "Piece Of My Heart," the singer and actress (she was the lead in the production of A Night With Janis Joplin) conjured up a dead-on vocal performance that stunned the crowd. Some were to the point of tears, no doubt including Joplin's own brother who was on hand for the set.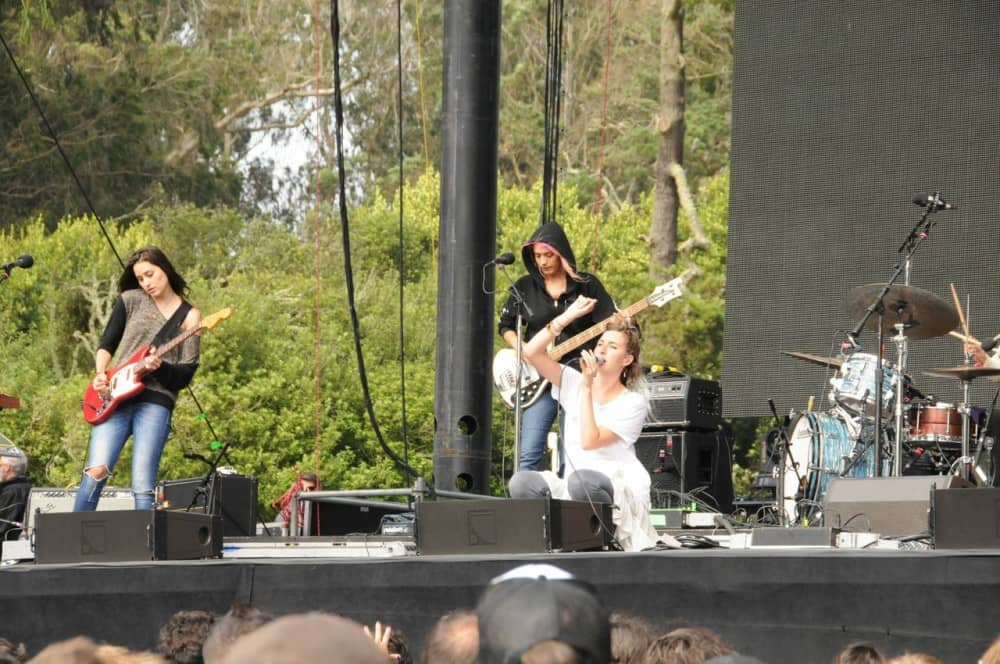 Warpaint
Warpaint are far from new to the festival circuit, so it was a bit disappointing to see them eat up so much time by continually leaving the stage to tend to various technical difficulties. Still, the band's three-part vocals and Lilith Fair/'90s hippie-grunge shtick warmed the hearts of many. Powering through songs like "Keep It Healthy," "Composure" and "Elephants" was met with much approval, but the band's demeanor was as chilly as San Francisco fog… you know, in a badass girl gang kind of way.
Grouplove
Grouplove's Hannah Hooper came to Outside Lands channeling that funky Deee-Lite video for "Groove is in the Heart." Clad in a skintight peacock-patterned bodysuit, the hometown gal was gracious and excited to perform indie gem tracks like "Hippy Hill," a song she wrote about smoking pot years prior in the very park we all stood in. Guitar tossing, tons of dancing and a dreamy performance of the Cover Song of the Year, "Drunk in Love," made Grouplove's set quite the crowd pleaser.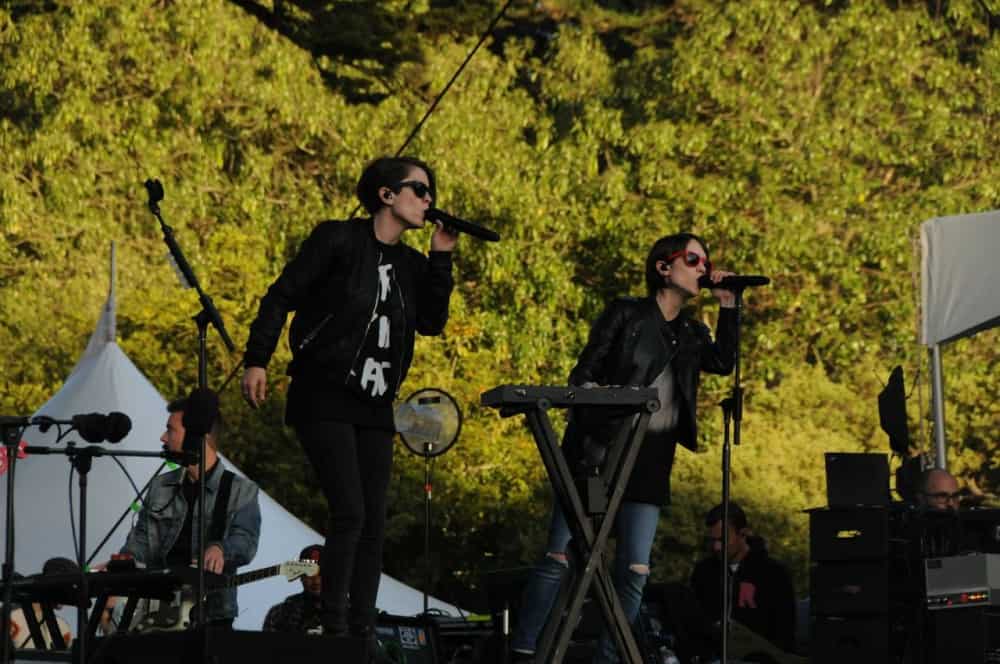 Tegan and Sara
Sweetly relatable and ready for a pop dance party, Tegan and Sara quickly became the sisters everyone wished they had. In matching Wayfarers and (presumably) pleather jackets, Tegan and Sara won the crowd over with trademark quippy banter and fan favorites like "Shock to Your System" and "Closer," with the occasional low key cool down thrown in ("I Was a Fool"). They weren't the only ones having a good time. Best girlfriends held hands, danced and sang it out at the twins' Friday night set.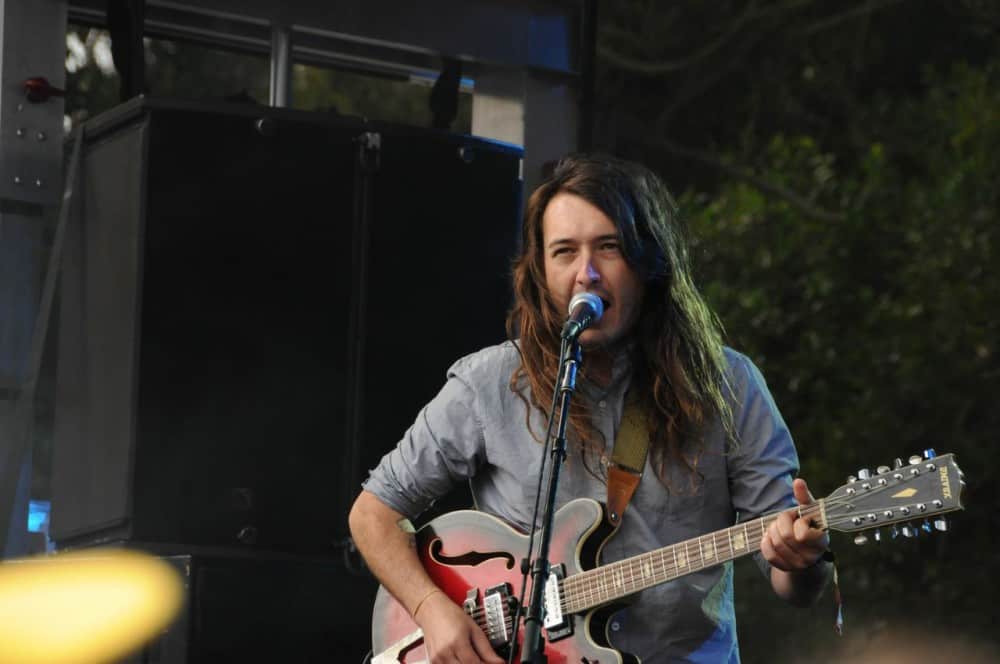 Male Boxx of the Day: Mikal Cronin
Garage rock revivalist Mikal Cronin's loyalists were united and ready for a face-melting set on Friday. Cronin and his bandmates (who insisted the fans start calling them Snakes) may have looked like your older brother's skater friends in the '90s, but their performance of Burger Records-esque surf pop and rock was surprisingly tight and unsurprisingly rad. The playful mosh pit of smiling faces during "Weight" said it all. Between the dozens of T-shirts Cronin tossed to his fans and the background video of a lizard running amuck in the wild, this was undoubtedly the most fun anyone had on stage all day.
DAY TWO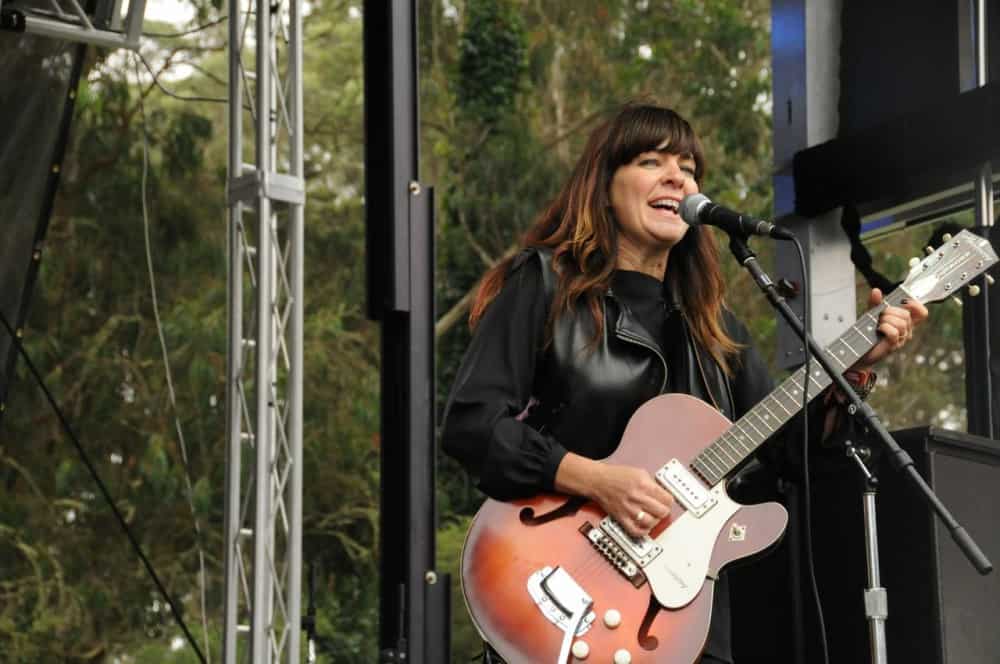 Nocona
Why Outside Lands booked Nocona in the dreaded "first show of the day" spot is beyond us. The honky tonkin' Americana rock band was solid, charismatic and well deserving of a better time slot. Husband-and-wife team Chris and Adrienne Isom held down the fort with the kind of twangy guitar and vocals you usually only find on the beer-soaked stage of Tootsie's in Nashville while Annie Rothchild beamed on upright bass. Hell, they even had their own Blues Brothers-inspired guitar player. We're sold.
Trails and Ways
Oakland band Trails and Ways have slowly but surely been picking up speed lately. In this homecoming show, which followed their first nationwide tour, the band enthusiastically introduced themselves, nearly every song and even drummer Ian Quirk's girlfriend. Endearing, excited and completely genuine, the locals provided 45 minutes of much-needed early 2000s nostalgia. Think the bossa nova backdrop of Kings of Convenience meets the sweet wistfulness of Stars. Along with some songs from an upcoming release, the band performed all of their 2013 debut EP Trilingual and especially killed it with the three-part harmonies provided by guitarist Hannah Van Loon, bassist Emma Oppen and rhythm guitarist Keith Brower Brown.
Haim
The sisters Haim found themselves in front of a giant audience on Saturday afternoon—not bad for a band with just one album to their name. Sounding like a carbon copy of their album Days Are Gone, the ladies proved their rock worthiness with badass guitar licks and super tight interplay. Beginning with "Falling" and "If I Could Change Your Mind," it took virtually no time for fans in the crowd to heed the advice of the band and perch on shoulders for the entire show, which created classic imagery for the fist pumping to "The Wire." "Bass face" talk be damned, Haim had one of the best sounding sets of the weekend. It's no wonder that singer/guitarist Danielle Haim has been making guest appearances just about everywhere, including drumming for The Killers during an intimate post-OSL show at The Independent in San Francisco.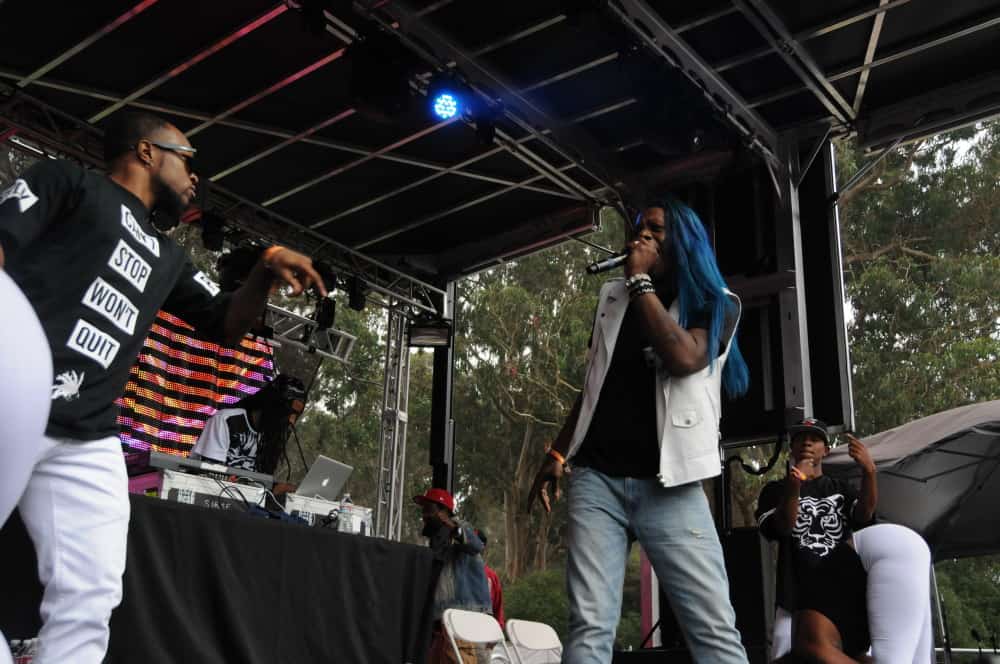 Big Freedia
The Queen of Bounce brought her brand of New Orleans booty shaking to the park late Saturday afternoon. In one of the best small stage performances, Big Freedia's fans swarmed the surrounding area for a down and dirty dance party. Armed with her team of twerkers, Freedia invited twenty-five thrilled fans up on stage for some ankle-grabbing jiggling to "Azz Everywhere."
Male Boxx of the Day: Tom Petty & The Heartbreakers
Tom Petty & The Heartbreakers delivered a no-nonsense rock 'n roll show as Saturday night's headlining act, no doubt propelled by the breaking news that new album "Hypnotic Eye" had debuted as their first number-one album. Appropriately starting the night with "So You Want to Be a Rock 'n' Roll Star," the legendary group delivered nothing but hits, including "Mary Jane's Last Dance," "Into The Great Wide Open," "Refugee" and "American Girl." An acoustic rendition of "Rebels" brought a chill vibe to the set, as did a spot-on cover of Grateful Dead's "Friend of the Devil," an homage on the 19th anniversary of Jerry Garcia's passing.
DAY THREE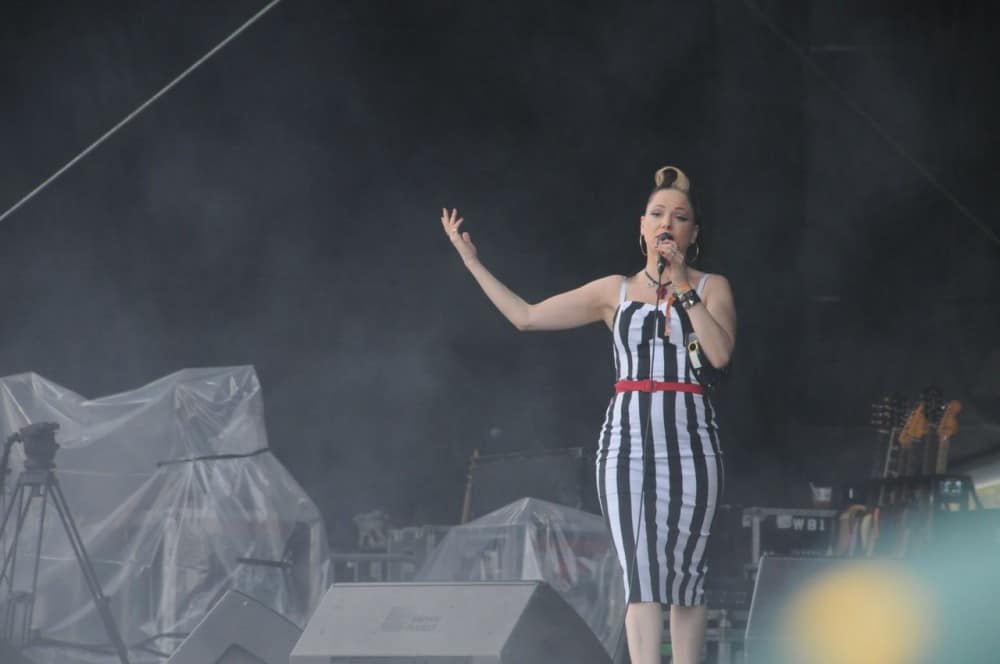 Imelda May
Day three got off to a rocky start when fans of Imelda May were informed that the Irish rockabilly singer was having difficulties getting to the festival and would have to be pushed back more than an hour. Further adding to frustrations, it was also announced that CHRVCHES had canceled their performance for the weekend due to travel woes. After some kudos-deserving rearranging from OSL, May hustled onto the stage looking noticeably irked and a little unprepared, albeit absolutely flawless in her '50s inspired wiggle dress and two-toned victory curl. Perhaps taking her own advice of "acting like you've had a few," May eventually loosened up when launching into "Big Bad Handsome Man" and venturing into mid-'90s No Doubt territory with "Wild Woman."
Lucius
Looking like something out of a David Lynch movie, Jess Wolfe and Holly Laessig of Lucius appeared in matching turquoise sequined mini dresses, blond bobs and round mirrored glasses. The two were robotically in-synch like Robert Palmer girls and became a dance pop dream when they performed the aptly titled "Don't Just Sit There," "Go Home" and a cover of Whitney Houston's "I Wanna Dance With Somebody (Who Loves Me)." Yet it was the breathtaking harmonies poured into a single microphone on the First Aid Kit-sounding "Two of Us on the Run" that seriously solidifies them as an act to keep an eye on. Full-bodied sound and gorgeous vocals made this set one of the weekend's most underrated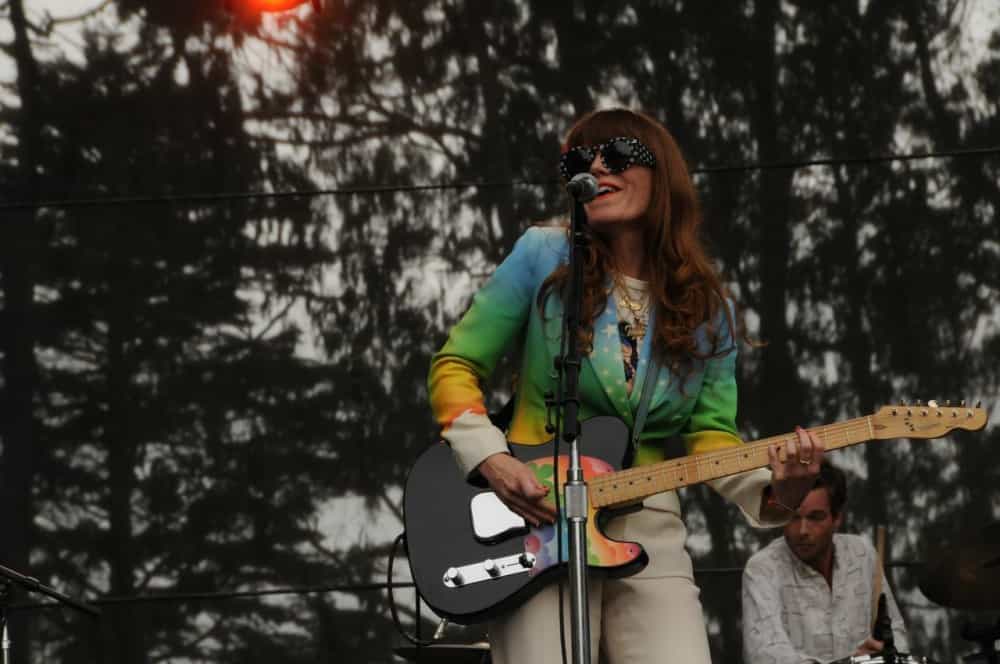 Jenny Lewis
The sun was appropriately shining over the Sutro Stage as Jenny Lewis stepped up in her now signature rainbow suit and opened her set performing former band Rilo Kiley's "Silver Lining." Looking as cheery as ever, the songstress swapped between acoustic and electric guitars all the while working the stage by dancing atop a glammed up soapbox that hiked up her petite frame. The frontwoman turned solo star performed more than half the tracks from new album The Voyager, while still squeezing in a few numbers from Rabbit Fur Coat and Acid Tongue. J.Lew got the diehards all choked up with her slow and steady "A Better Son/Daughter" sing-along and enthralled them again when she brought out Lucius and beau/collaborator Johnathan Rice for perfectly harmonized "Acid Tongue."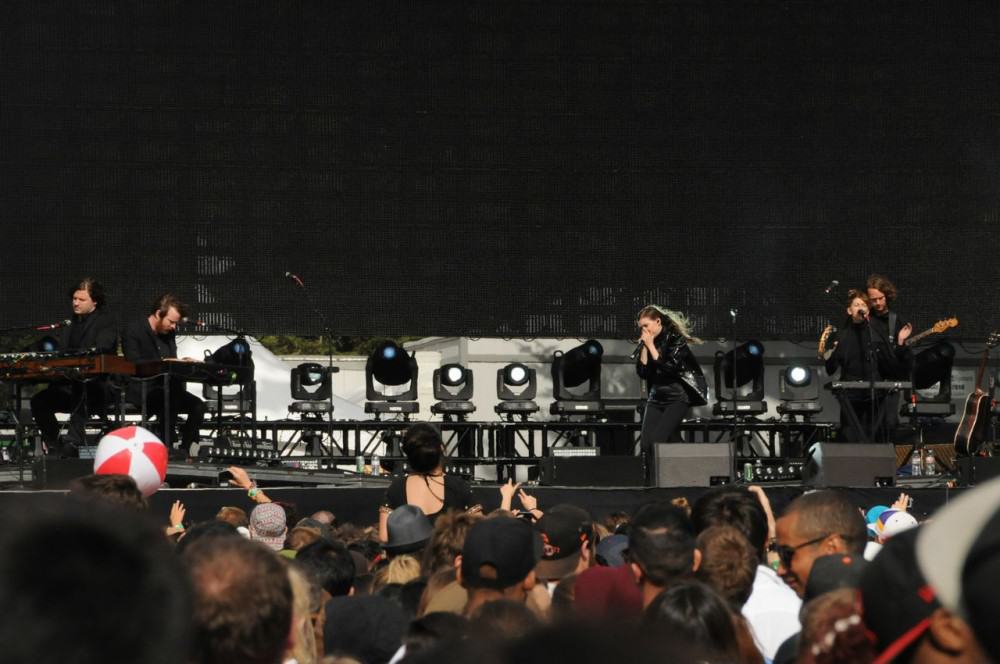 Lykke Li
Given the amount of gypsy witch festival wear seen this weekend, Lykke Li fit right into the OSL aesthetic. Drawing an enormous audience, Li got her Stevie Nicks on for "Silence is a Blessing," twirling about the stage in an all black ensemble. Although the summer heat was finally kicking in and the somberness of Li's set felt a little weak under such bright light, the giant crowd of devotees that crammed in front of the stage would beg to differ. Thankfully things definitely picked up into a cymbal-crashing dance party for pop hit "Dance Dance Dance."
Male Boxx of the Day: The Flaming Lips
The Flaming Lips have been attempting to shock the masses for three decades now, but their recent antics with a certain Disney star turned twerker and accusations of cultural appropriation have had more fans rolling their eyes than eagerly anticipating any new efforts. Thankfully, the psych pop rockers finally did something truly shocking by gleefully skipping past their recent dramas and performing a truly decent career-spanning set, starting with "The Abandoned Hospital Ship" from Clouds Taste Metallic and ending with their recent cover of The Beatles' classic "Lucy in the Sky with Diamonds." The band also brought back their giant inflatable butterflies and aliens from past tours, as well as Wayne Coyne's infamous space bubble for not-so-subtle props. Although noticeably lacking the usual confetti and balloons, the Lips included a few things that really matter in their set, like a real focus on song choice ("Yoshimi Battles the Pink Robots Part 1" and "Race For the Prize") and rarely seen badass guitar shredding by Coyne.