– The 10 Best Moments of Riot Fest 2014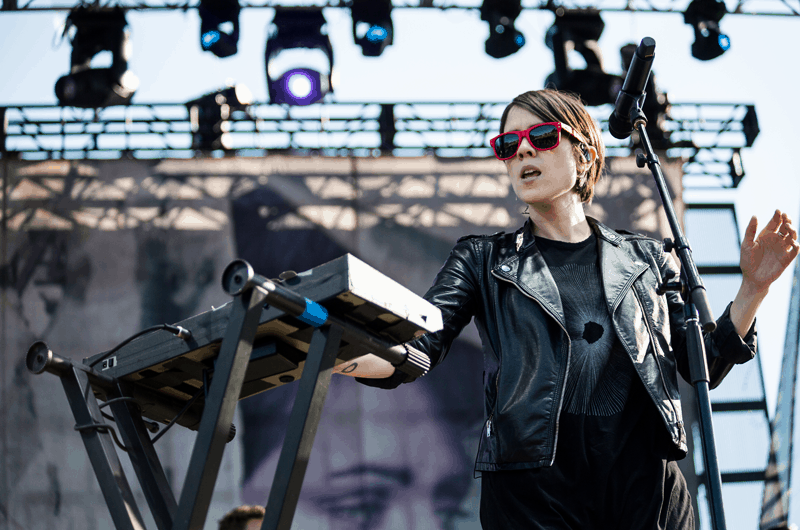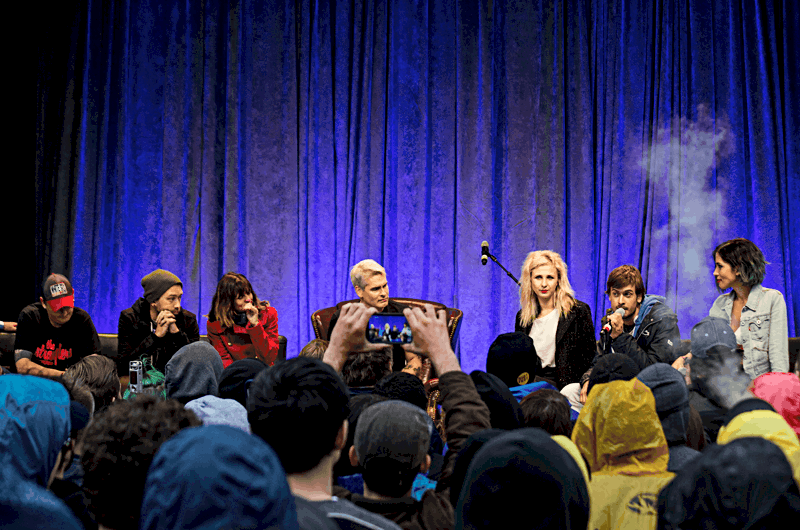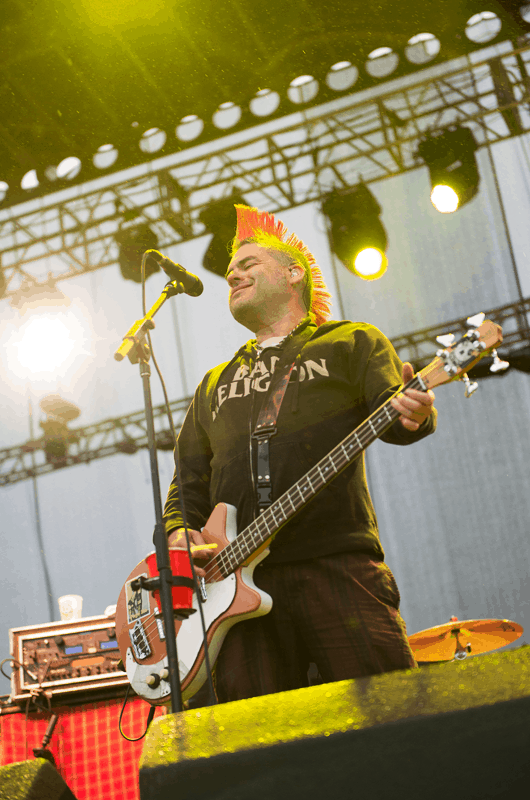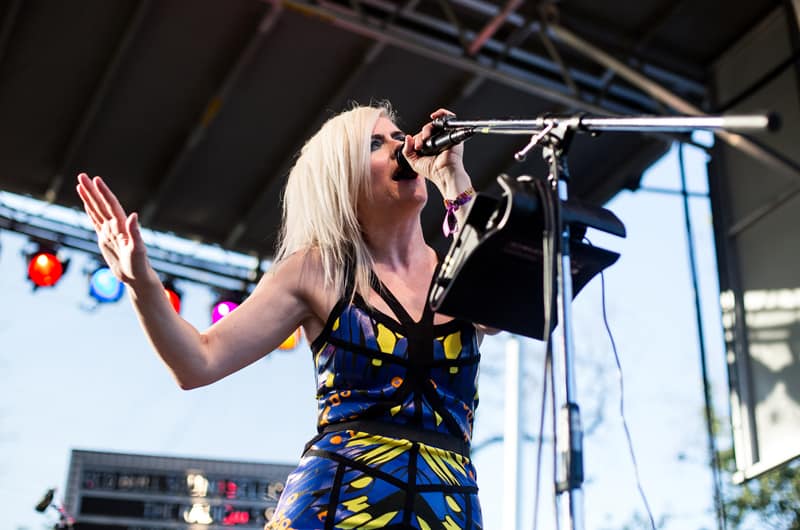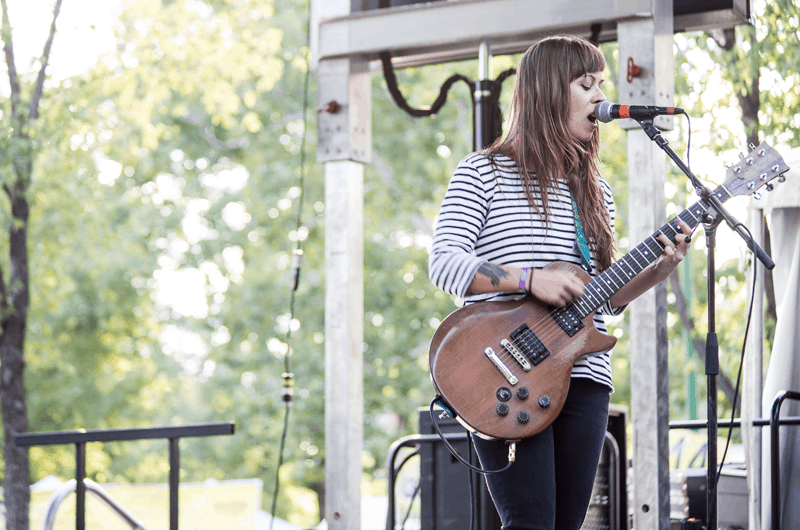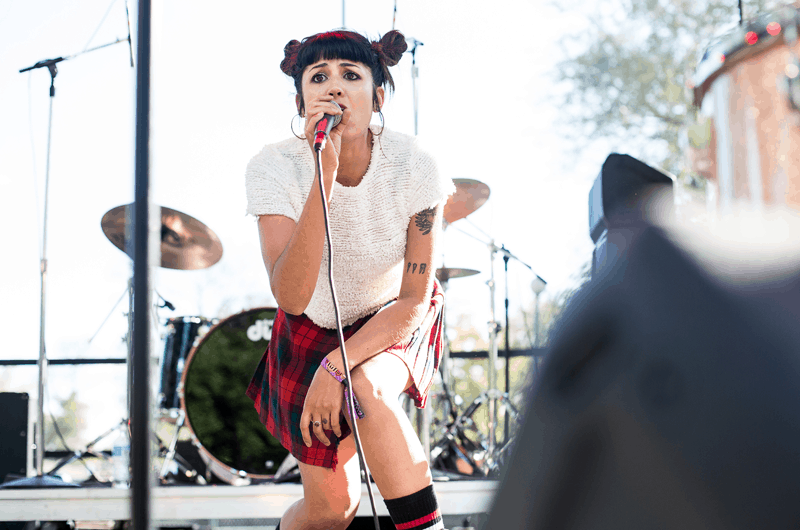 All photos by Nikki DeBardlebon
Primus was not only one of the main acts at Riot Fest Chicago this year, they also had the anthem of the weekend with "My Name is Mud" after brutal rains left Humboldt Park a warrior's course. But there's no crying in festivals, and no one was letting Chicago's ridiculously fickle weather affect their experience.
This was the 10th anniversary of the annual punk/rock/anything goes summit—and Riot Fest brought one of its best spectacles yet with 10 bands playing their seminal albums in full (Slayer, Weezer and Jane's Addiction amongst the highlights) as well as an expanded presence with more stages, a haunted house, mini golf, wrestling, burlesque, chainsaw sculpture chiseling and more carnival rides and games than you could throw a child at.
More than that, we were elated to see all the great lady talent on the bill this year, from legend Patti Smith to twin trouble Tegan and Sara and even a special appearance by the members of Pussy Riot. Without further ado, here are our 10 favorite moments, in no particular order (really how could you weight these?)
The introduction of Vulvatron.GWAR has a frontwoman. Repeat: GWAR. Has. A. Frontwoman. Riot Fest marked the worldwide introduction of Vulvatron, aka musician and clothing designer and impossible to ignore Kim Dylla, who takes the reigns for Dave "Oderus Ungus" Brockie after he unexpectedly passed away earlier this year. While not much can surprise us from this bloodbath comedic trash act, we have to admit the introduction of Vulvatron was quite the shock to kick off Day One. Dylla held her own amongst her groveling counterparts whether she was getting chewed out by animatronic dinosaurs or spraying the front row with her bloody, uh, bustier. Brockie was not forgotten in the mix, though, with a whistled salute led by a mobster meets game show host who even found a way to fit in a crack about Joan Rivers. How far they've come in a year.
The primal screams of Nostalghia She looks like Snow White or a porcelain doll, wears slips and fake furs and angularly prances around the stage like a contortionist ballerina, but hell hath no fury like Ciscandra Nostalghia when she has to get something off her chest. The faces on the security guards in the pit when the singer shrieked on "Cool for Chaos" (the single from her debut album Chrysalis) said it all. If she has demons to expel, she wastes no time coddling. On the other side of the vitriol though was the virtue as Nostalghia fell hard into operatic tumbles on songs like "I'd Still Kill You" and "Naked as a Hand," further accentuated by cellist and full-time band member Adele Stein and drummer Roy Gnan who filled the holes with a powerful and cavernous backbeat. The whole set was industrial and symphonic, mellow and haunting, medieval and Middle Eastern and, like any good séance, awoke forces beyond the imagination.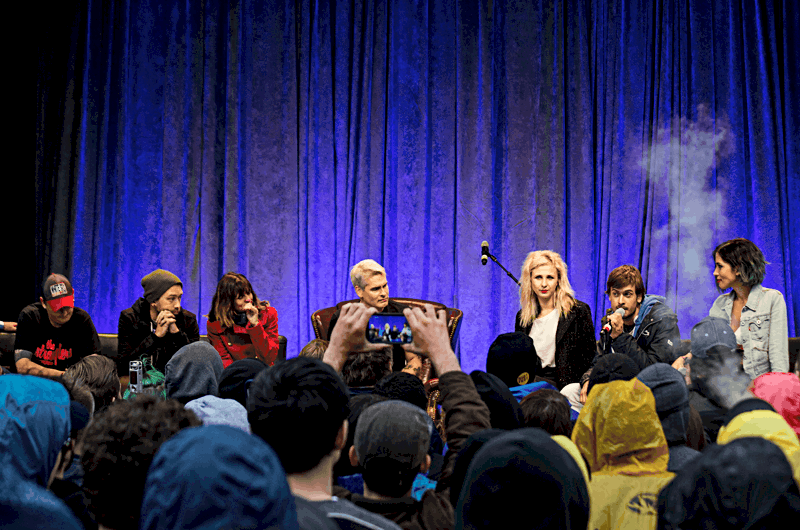 The appearance of Pussy Riot Punk took pause for a moment of reflection at a special conversation featuring Nadya Tolokonnikova and Masha Alekhina of the Russian activist troupe Pussy Riot. The music collective made headlines after being sentenced to prison for their demonstrations in a Moscow church in 2012; after being released last December, Riot Fest founder Mike Petrysyhn opted to launch the Riot Fest Speaks stage with the special guests of honor. "If Riot Fest continues, there has to be a socio-political awareness brought to it with these types of panels, it's our duty," he declared during the discussion, which also featured Rise Against frontman Tim McIlrath, Bad Religion's Greg Graffin, Bust Magazine co-founder Marcelle Karp and host Henry Rollins. Although much of the talk was sourly dominated by Rollins' personal mementoes of developing a rap sheet with the LAPD, when Pussy Riot did speak it was evident that words were in fact their most powerful tool. "The words in our songs were what sent us to prison," they said, translated through one of the member's husbands. "We knew punk music was the only way to make a statement." Karp chimed in it was the same sense of injustice that fueled the foundation of Bust. "The media kept trying to tell women their place, but we wanted to be ourselves and have a voice." She followed by saying she was hoping to see as many women as men in the crowd, which was met by an uproarious applause. The reaction, and the continued love given Nadya and Masha, furthered Rollins' bold statement that punk just might be one of the greatest humanitarian movements.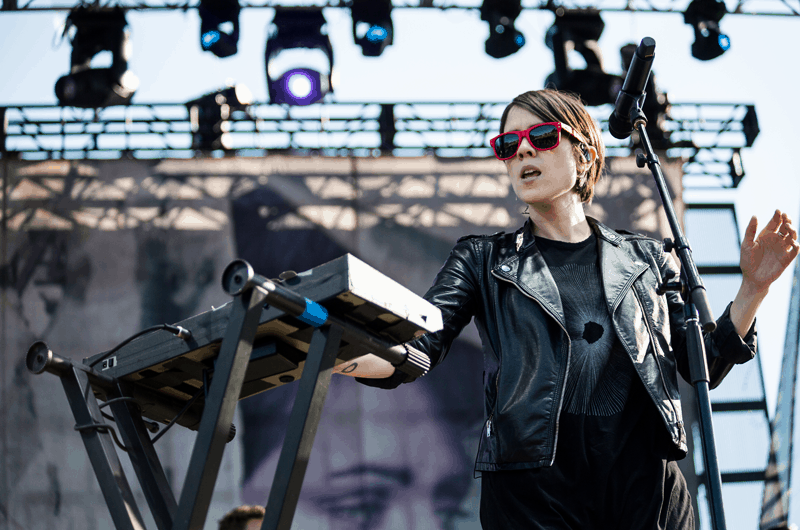 The Kim Deal jackets worn by Tegan and Sara Where can we get one of those?! The members only jacket, clearly emblazoned with the name of The Breeders/Pixies icon, was only for show though as the twin's performance was an inclusionary if not intimate affair for the thousands who swelled the park on the final day to get in on the heartbreaking love fest. Synth pop ballads from their latest album Heartthrob like the Robyn-dancing-on-my-own number "How Come You Don't Want Me" made unrequited love seem like a literal party. But there was real cause to celebrate—it was the exact day of the 10th anniversary of the Canadian sisters' 2004 album So Jealous, which produced arguably their biggest hit "Walking With a Ghost," a quiet standout they delivered in stride just before the bombast of Dropkick Murphys. "I still think acoustic guitars are punk rock," said Tegan, "so eat shit."
The protests of Patti Smith Forty-five minutes is never enough for the singer/activist/poet/artist, especially when she gets going on one of her well-versed rants. Yet Smith still found a way to fit everything in, including on-pitch performances of "Because The Night," "Redondo Beach" and "People Have the Power." The last really got her amped— "I haven't fucked much with the past but I fuck a lot with the future. The future is now; you can change the fucking world. Unite for peace, no more war," she screamed into the nightfall, her long grey hair flowing in her own created wind. She left more quietly than she came, setting the mood for the rabble rousing of Social Distortion that would come on directly after her, proving just how interconnected the lineup was in heart and soul and spirit.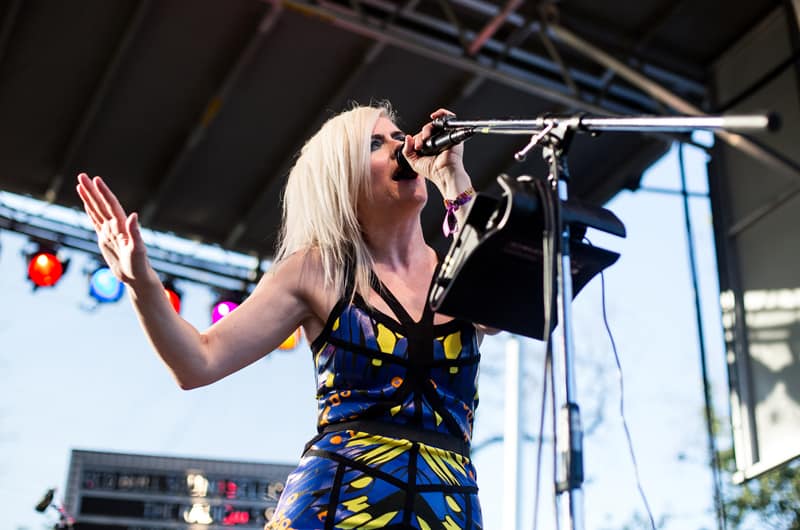 The big time premiere of My Gold Mask It's been a long time coming for Chicago's dark wave trio My Gold Mask—that is, finding a primetime spot on a festival lineup. And Siouxsie/Karen O/Elvira frontwoman Gretta Rochelle filled the spot well alongside her comrades, American Gothic guitarist Jack Armondo and standup drummer James Andrew, who brought a fiery mix of '70s horror, European gypsy flair, new wave electro pop and murderous garage rock to the Radical Stage, presented by Red Bull, which has been all over this troupe the past couple of years. Older numbers like hit "Violet Eyes," paired well with the upbeat roar of new singles like "Dissipate," that had Rochelle spouting at the mouth with a range of voices, all of which spoke to us.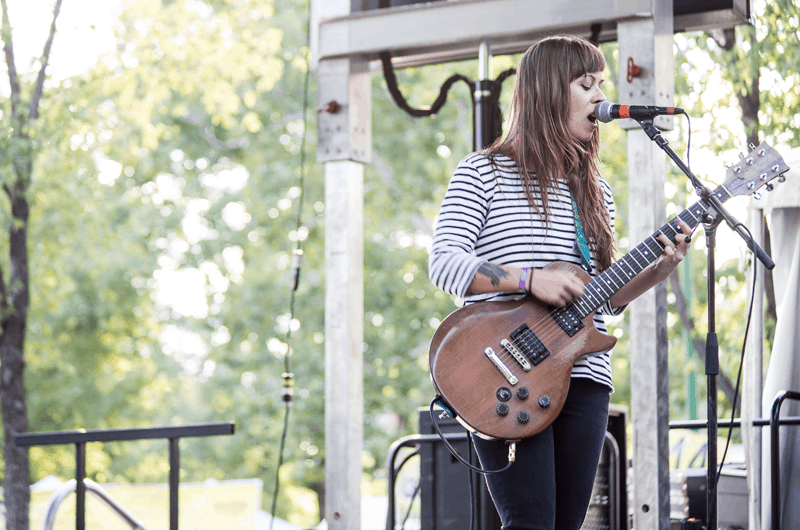 The aftershocks of Lemuria They were a second tier addition to the Riot Fest lineup, but this Buffalo, NY trio left a really great first impression on a bulk set of passersby that gravitated to the energy Lemuria was rallying on the apropos Revolt Stage. Singer Sheena Ozzella not only has probably the greatest name ever, her effervescent aesthetic is pure East Coast DIY gold as she and bassist Max Gregor and drummer Alex Kerns paired up for post-punk, indie grunge gems like "Brilliant Dancer" from their latest album, The Distance Is So Big. Ozzella's nautical shirt may have been more than a good closet pick, but rather illustrated this band knows the right direction to head next.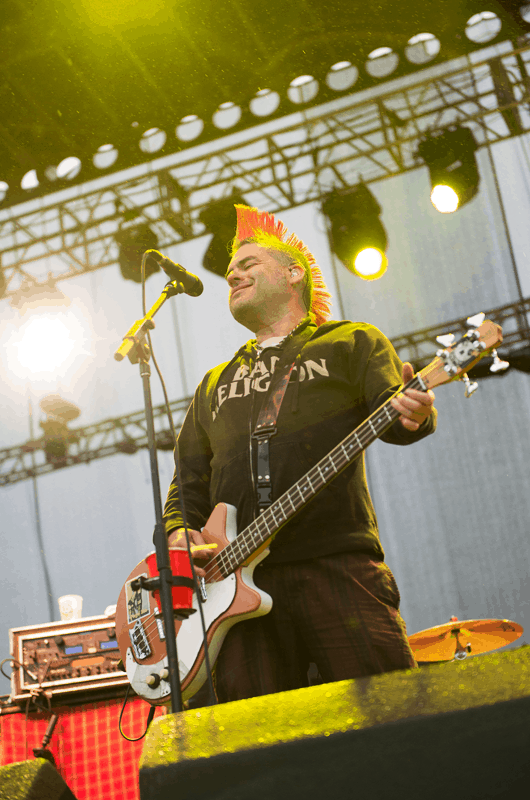 The Male Boxx deliveries. All of the man-kind were above par over the weekend, but three notables took our attention. On Friday, it was the tomfoolery and tenaciousness of punk rockers NOFX who saw little need to decorate their stage with anything but a homedrawn neon posterboard that could distract from what they were dishing out. And that seemed to be a quip about everyone including Patti Smith ("get ready for 4.5 hours of poetry"), Chicagoans ("even Kid Rock hates Chicago") and some dude in a wheelchair ("I'm a rocker, you're a roller"), offered in kind by a vintage red-mohawked singer Fat Mike. When they stuck to the music, which included all of Punk in Drublic, it was a hearty affair with a side of horned ska and pop punk high tops—until the plug was abruptly pulled to make way for Gogol Bordello.
Saturday brought Wu-Tang Clan who began their set with "Bring Da Ruckus" which they did over almost an hour to a gentrified crowd that, like North Coast Music Festival last year, ate up the rhymes like it was a brand-new on-trend act, belying the New York collective's 20-plus year history that has spawned some of the greatest emcees of our time from Ghostface Killah to Method Man and the deceased Ol' Dirty Bastard.
Sunday night closed out with the mysteriously moody Brit rockers The Cure, marking their second festival appearance in two years for a delighted and nostalgic Chicago crowd. Trippy prisms and glazed lights tried to take some of the magic from The Flaming Lips the night before but the music spoke for itself, which included hits like "Fascination Street," "Lovesong," "Just Like Heaven," "Pictures of You," "Hot Hot Hot" and "Friday I'm in Love" in a mammoth two-plus hour set. If this was the last chance we get to see Robert Smith and co. for the time being, we won't smear our eyeliner with tears; this was as good as it gets.
The aerobics of Emily Haines. Chicago was downright freezing over the course of the weekend but don't tell the Metric frontwoman whose got Jane Fonda moves for days in any temperature. While running in place, throwing out high kicks and flinging back gobs of wavy blonde hair, Haines kept paces with the rest of the band who delivered a short but memorable eight-song set including "Help I'm Alive," "Synthetica" and "Gold Guns Girls." They're from Canada so they're either used to it or are really good at faking it. Either way, we'll take it.
The spooky kids of Die Antwoord We'll be honest, this South African rave-rap-rock duo scares the shit outta us. They're loud as hell, have haircuts from some Mad Max barber, might be subliminally recruiting listeners for a cult and look like they want to eat your children. But once you get beyond all that, which you do when you are transfixed watching their neon glow stick of a set, you realize the only thing scary about Die Antwoord is that no one else puts on a set as good as they do.