– The Pretty Reckless: October 12, 2013 in San Francisco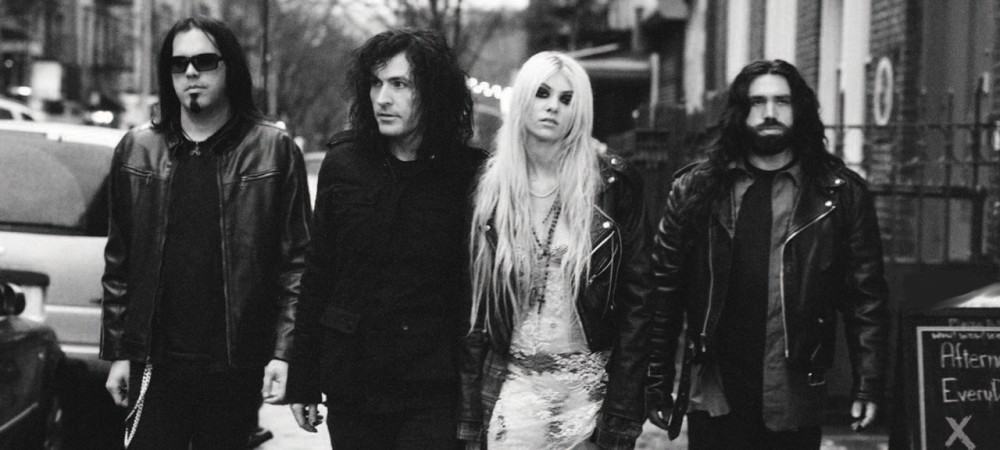 Fresh off her controversial and somewhat viral Maxim magazine shoot, 20-year-old Taylor Momsen appeared at Slim's in San Francisco with her band The Pretty Reckless over the weekend in support of the new album Going to Hell. We'll get to the review in a moment, but first and foremost, we'd like to issue an open letter to Ms. Momsen (What? Everyone else is doing it.)
Listen, Taylor: we get it. You're not Jenny Humphry and the mere mention of your time on the wildly successful teen melodrama "Gossip Girl" makes your skin crawl. You're certainly not the beguiling Cindy Lou Who from that somewhat frightening live action version of "How the Grinch Stole Christmas" some years ago, either. You're a grown-ass woman who is a sexual being and that is totally cool with us. In fact, that time you channeled Wendy O. Williams with electrical tape pasties and freaked out the blogger squares was dope as hell (although, it would've been nice had you waited to turn 18 to do it). But something is off. Watching you take the stage to a prerecorded track of faking an orgasm makes us want to wrap our coats around you and carry you off the stage Jenny Gump style.
Sex and rock n' roll go hand-in-hand, but you have got to balance it out. For the love of god, stream some videos of strong feminist vixens like Debbie Harry and quit selling yourself short. Stop letting sleazy male magazines take pictures of you on the john, pull up your pleather leggings and show 'em all that you're sexy and a musical badass.
Anyway, back to the show. It might not have been sold out, but the crowd at Slim's on Saturday night was more than what most bands could ask for—seriously dedicated fans of all ages, colors and gender who knew every word to every song and handed money by the fistful over to the merch table. Russian punk outfit Louna and British metalheads Heaven's Basement were warmly received as the night's openers and collaborated together on a song in one internationally rockin' moment.
The Pretty Reckless' chemistry, on the other hand, was noticeably lacking, as Momsen took the stage last, securing her star status. Little to no band interaction, as well as a lack of band member introductions, only further propelled the feeling that this is a band of musicians plucked from the Sunset Strip by a publicist one fateful night. That's not to discredit the talent in the band, but any glimmer of a spark between members fizzled quickly and, thus, lost what's often the magic of seeing a live act.
The band, who is about halfway through the first leg of their ridiculously long Going to Hell Tour, busted out a plethora of radio-friendly rock, but largely just moved through the motions. While songs like "Hit Me Like a Man" from their EP of the same name garnered a big reaction, it was hard to overlook Momsen just barely strumming a guitar with a muted monitor on "My Medicine" or her blunder of calling the crowd San Diego, rather than San Francisco. "Somebody mixed my medicine," indeed, Taylor.
Alas, the night did offer several notable highlights. In addition to two engaging opening acts, The Pretty Reckless did pull it together primarily for their encore. Their newest single, "Going to Hell" featured a tight Van Halen-worthy riff from guitarist Ben Phillips, who also shined on an acoustic rendition of Audioslave's "Like a Stone" with Momsen providing beautifully toned down vocals. The band shone brightest when channeling 1970s rock in the vein of Black Sabbath, rather than the likes of their former tourmates Marilyn Manson and Evanescence.
The Pretty Reckless have had quite a few noteworthy shows in their short career including spots on Warped Tour and Lollapalooza, perhaps a bit prematurely. With an already dedicated fanbase in place, the band has every reason to get it together and tighten up for the remainder of this mammoth tour undertaking. They've got the swagger down, but seemingly have yet to find that certain something to make them a standout act.
Catch The Pretty Reckless on tour:
10/16/13 Vancouver, BC @ Rio Theatre
10/18/13 Edmonton, AB @ The Starlite Room
10/19/13 Calgary, AB @ The Den
10/20/13 Saskatoon, SK @ Louis' Pub
10/21/13 Winnipeg, MB @ West End Cultural Cenre
10/23/13 Minneapolis, MN @ Varsity Theater
10/25/13 Detroit, MI @ St. Andrew's Hall
10/26/13 Indianapolis, IN @ Deluxe at ONC
10/27/13 Chicago, IL @ House of Blues
10/29/13 Columbus, OH @ A&R Music Bar
10/30/13 Pittsburgh, PA @ Stage AE
10/31/13 Cleveland, OH @ House of Blues
11/01/13 Cincinnati, OH @ Bogart's
11/03/13 Washington, DC @ The Fillmore
11/04/13 Toronto, ON @ Phoenix Concert Theatre
11/05/13 Quebec City, QC @ Le Cercle
11/08/13 Montreal, QC @ Theatre Corona
11/09/13 New York, NY @ Irving Plaza
11/10/13 Philadelphia, PA @ Theatre of Living Arts
11/11/13 Boston, MA @ Paradise Rock Club